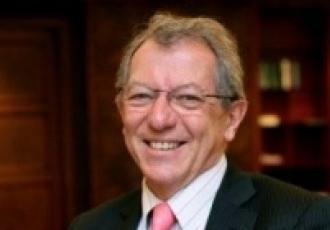 Position
Director of the Smith School of Enterprise and the Environmnent Oxford University
Acheivements
Director of the Smith School of Enterprise and the Environmnent
Oxford University
Professor Sir David King was the first appointed Director from 2008-2012 at the Smith School of Enterprise and the Environment at the University of Oxford. He drew together an elite group of full-time, associate and visiting academics from all over the world to be part of the School. With them, he forged links with global businesses and politicians from every continent to achieve the Smith School's aims – to help leaders in business and government make well-informed decisions to secure a sustainable low carbon future.
Sir David was the UK Government's Chief Scientific Adviser and Head of the Government Office of Science from October 2000 to 31 December 2007. In that time, he raised the profile of the need for governments worldwide to act on climate change and was instrumental in creating the new £1bn Energy Technologies Institute. He gave over 300 talks on climate change at venues around the world between 2002 and 2007. In 2008 he co-authored The Hot Topic (Bloomsbury) on this subject. As Director of the Government's Foresight Programme, he created an in-depth horizon scanning process which advised government on a range of long-term problems, from flooding to obesity.
Sir David chaired the government's Global Science and Innovation Forum from its inception and advised on the foot-and-mouth epidemic of 2001, post 9/11 risks to the UK, GM foods and energy provision. He was heavily involved in establishing the government's Science and Innovation Strategy of 2004-2014.
Sir David was born in South Africa in 1939 and in 1974, after an early career at the University of Witwatersrand, Imperial College and the University of East Anglia, he became the Brunner Professor of Physical Chemistry at the University of Liverpool. In 1988, he was appointed 1920 Professor of Physical Chemistry at the University of Cambridge, subsequently becoming Master of Downing College (1995-2000) and Head of Cambridge University Chemistry Department (1993-2000). He remains Director of Research at the Department of Chemistry in Cambridge and is Senior Scientific Advisor to the bank UBS. He has published more than 500 papers on chemical physics and on science and policy, and has been awarded numerous prizes, fellowships, and honorary degrees. He was President of the British Science Association from 2008-9.