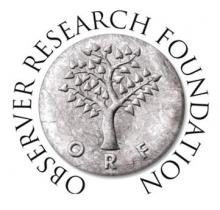 Observer Research Foundation: Building Partnerships for a Global India
Observer Research Foundation (ORF) is a not-for-profit, multidisciplinary public policy think tank engaged in developing and discussing policy alternatives on a wide-range of issues of national and international significance. Some of ORF's key areas of research include international relations, security affairs, politics and governance, resources management and economy and development. The fundamental objective of ORF is to influence formulation of policies for building a strong and prosperous India in a globalised world.
ORF pursues these goals by providing informed and productive inputs, in-depth research and stimulating discussions. Set up in the early 1990s during the troubled period of India's transition from a protected economy to its new engagement with the international economic order, ORF examines critical policy problems facing the country and helps develop coherent policy responses in a rapidly changing global environment.
As an independent think tank, ORF develops and publishes informed and viable inputs for policymakers in the Government and for the political and business leadership of the country. It maintains a range of informal contacts with politicians, policymakers, civil servants, business leaders and the media, in India, and abroad. ORF publications are distributed widely to government officials and legislators, business leaders, journalists, and academics.
ORF's principal research divisions are: the ORF Centre for International Relations, the ORF Institute of Security Studies, the ORF Centre for Economy and Development, the ORF Centre for Resources Management, and the ORF Centre for Politics and Governance. Headquartered in New Delhi, ORF has chapters in Chennai, Mumbai and an upcoming centre in Kolkatta. More information about the Foundation is available at its website.