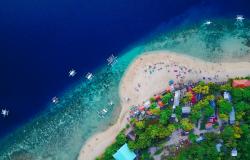 Small Island Developing States (SIDS) ambitiously pursue their development agendas while facing resource and governance constraints. Global processes like the Sustainable Development Goals (SDGs) include governance norms with the potential to influence national institutional arrangements and policy. National implementation processes are dynamic and contest, reinterpret, and/or apply external norms in varied ways. Although much of the success in SDG implementation depends on understanding these dynamic processes, surprisingly, the question has received little scholarly attention. This study explores the power of SDGs to act as a broker for sustainability governance. First, I construct a framework of five governance norms with nine implementation pathways that characterise the SDG governance. Second, using national reports to the United Nations, I provide evidence of how SIDS applied this framework in the years immediately following the launch of the Agenda 2030. In most cases, although recognising their value, states had not incorporated the implementation pathways. The findings suggest that greater attention should be given to governance capacity-building to support SIDS-led sustainable development national agendas. This study contributes to discourses on the ability of global processes to improve national governance, to the constructivists' norm penetration debates, and to debates and policy on SDGs and governance.
Policy Implications
SDGs have the power to act as a broker for sustainability governance.
The SDG Governance Framework that distils five key governance norms (adaptability, whole-of-government approaches, political will and support, participation, and science-based decision-making) can help policy-makers determine the degree of SDG norm penetration into national policy.
There is a high degree of political interest, but substantial institutional and policy gaps in SDG governance in Caribbean SIDS.
SIDS' development partners can support the integration of SDG governance norms into domestic policy by focusing on helping SIDS to address the institutional, economic, and structural weaknesses that hinder SDG implementation.
The results of the study point to two key transformative catalysts for SDG governance in SIDS: data and participatory governance.
Photo by Tirachard Kumtanom from Pexels