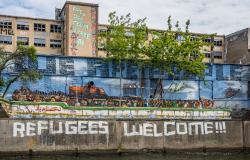 Considering the Afghan evacuation of 2021 and its aftermath, this article suggests the term 'brain save' to characterise emerging protection discourses and practices concerning the resettlement of skilled women refugees. Resettlement has traditionally focused on women as vulnerable because of their gender. Drawing on examples of the evacuation and prospective resettlement of Afghan women professionals, the article develops the analytic concept of brain save to label these discourses and practices. Unlike 'brain drain', brain save challenges established politics of vulnerability and has progressive potential for resettlement as a durable solution. However, it also implies problematic prioritisation of particular resettlement candidates.
Policy Implications
The 2021 evacuation from Afghanistan demonstrates the need to review the established refugee resettlement submission categories and consider mainstreaming them to make them less dependent on gender. Vulnerability and the need for resettlement owing to lack of protection can exist for both women and men, as can vulnerability owing to skills and position.
There is a need to monitor and evaluate how a 'brain save' can reshape new boundaries of inclusion and exclusion in resettlement, and to identify those who will have less access to the limited resettlement spots.
The article reveals the need for further studies examining the role of civil society actors and bottom–up processes, and how this influences how the UNHCR and receiving countries prioritise those seeking refugee resettlement.
Brain save is encouraged by nongovernmental actors. This invites the question whether the use of special channels of resettlement for professional women is more likely in countries with resettlement streams in which nongovernmental actors play an important role, such as private refugee sponsorship.
Image: Susanne Nilsson via Flickr (CC BY-SA 2.0)