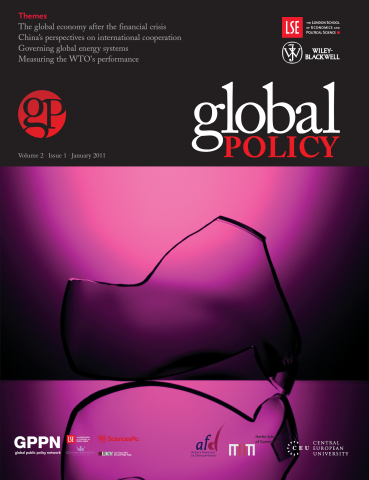 The January 2011 issue of Global Policy covers topics such as China's perspective on inclusive global governance, energy security and measuring the WTO's performance. It also includes a special section on the global economy after the financial crisis edited by Martin Wolf of the Financial Times.
Research Articles
John S. Dryzek, André Bächtiger and Karolina Milewicz - Toward a Deliberative Global Citizens' Assembly
Rorden Wilkinson - Measuring the WTO's Performance: An Alternative Account
Christopher T. Marsden - Network Neutrality and Internet Service Provider Liability Regulation: Are the Wise Monkeys of Cyberspace Becoming Stupid?
Kristian Coates Ulrichsen - Rebalancing Global Governance: Gulf States' Perspectives on the Governance of Globalisation
Aleh Cherp, Jessica Jewell and Andreas Goldthau - Governing Global Energy: Systems, Transitions, Complexity
Special Section: The Global Economy After the Financial Crisis
Martin Wolf - Introduction to the Special Section: The Global Economy after the Financial Crisis
Danny Quah - The Global Economy's Shifting Centre of Gravity
José Antonio Ocampo - Global Economic Prospects and the Developing World
Deepak Nayyar - The Financial Crisis, the Great Recession and the Developing World
Survey Articles
Shi Yinhong - China, 'Global Challenges' and the Complexities of International Cooperation
S. Jay Olshansky, Simon Biggs, W. Andrew Achenbaum, Gerald C. Davison, Linda Fried, Gloria Gutman, Alexandre Kalache, Kay-Tee Khaw, Alvaro Fernandez, Suresh I. S. Rattan, Renato Maia Guimarães, Colin Milner and Robert N. Butler - The Global Agenda Council on the Ageing Society: Policy Principles
Henning Meyer and Stephen Barber - Making Transatlantic Economic Relations Work
Practitioner Commentaries
Bo Kjellén - Climate Conundrum: Could a Transitional Agreement Offer a Way Out?
Responses to Articles
Robert Wade - Why Justin Lin's Door-Opening Argument Matters for Development Economics
Robert Howse and Ruti Teitel - Posner's Missing Concept of Law
Rorden Wilkinson - Global Governance, for Whom?
Review Essay
Lord Meghnad Desai - The New Politics of Human Security
Reviews
Everisto Mapedza - Freshwater Resources and Interstate Cooperation: Strategies to Mitigate an Environmental Risk
Francis Baert - Security and Migration in the 21st Century
William Vlcek - Tax Havens: How Globalization Really Works
Charles Barclay Roger - The End of Influence: What Happens When Other Countries Have The Money
Tahir Abbas - Apart: Alienated and Engaged Muslims in the West