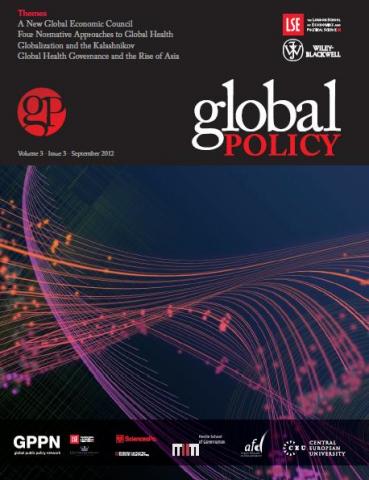 The September 2012 issue of Global Policy Journal contains articles on establishing a new global economic council; small arms trafficking; fragile states; economic nationalism and the inclusiveness of global policy. Edited by Tikki Pang and Kelley Lee, the special section focuses on 'Global Health Governance and the Rise of Asia'.
Research Articles
Robert H. Wade and Jakob Vestergaard - Establishing a new Global Economic Council: Governance Reform at the G20, IMF and World Bank
Faizel Ismail - Reflections on a new Democratic South Africa's Role in the Multilateral Trading System
Sam Pryke - Economic Nationalism: Theory, History and Prospects
Garrett Wallace Brown - Distributing Who Gets What and Why: Four Normative Approaches to Global Health
Matt Bolton, Eiko Elize Sakamoto and Hugh Griffiths - Globalization and the Kalashnikov: Public-Private Networks in the Trafficking and Control of Small Arms
Furio Cerutti - Two Global Challenges to Global Governance

Special Section - Global Health Governance and the Rise of Asia
Yeling Tan, Kelley Lee and Tikki Pang - Global Health Governance and the Rise of Asia
Ann Florini, Karthik Nachiappan, Tikki Pang and Christine Pilcavage - Global Health Governance: Analysing China, India and Japan as Global Health Aid Donors
Kelley Lee, Adam Kamradt-Scott, Sungwon Yoon and Jingying Xu - Asian Contributions to Three Instruments of Global Health Governance
Survey Articles
Kevin P. Gallagher - Financial Crises and International Investment Agreements: The Case of Sovereign Debt Restructuring
Indira Rajaraman - Fiscal Impact of Trade Tariff Cuts: Long-Series Historical Evidence
Parag Khanna - How Multi-Stakeholder is Global Policy?
Practitioner Commentaries
Frank Vibert - Reforming International Rule Making
Review Essay
Monica Thakur - Fragile States: Bridging the Gap between Theory and Reality?