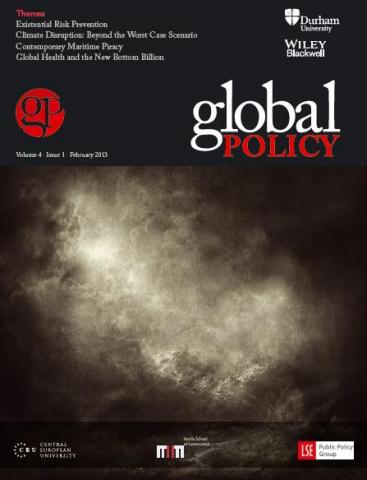 The February 2013 edition of Global Policy contains two special sections. The first, edited by Christian Bueger, on 'Contemporary Maritime Piracy' unpicks the moral economy of Somali piracy and the international response. The second, edited by Andreas Klasen, examines 'Export Credit Availability and Global Trade'. It includes analysis of export credit in BRICS countries and its availability during the Euro debt crisis. The issue also contains articles on existential risk, climate change, the legitimacy of the G20 and China's growing global influence.
Research Articles
Amanda Glassman, Denizhan Duran and Andy Sumner - Global Health and the New Bottom Billion: What do Shifts in Global Poverty and Disease Burden Mean for Donor Agencies?
Nick Bostrom - Existential Risk Prevention as Global Priority
Michael Jennings - Climate Disruption: Are We Beyond the Worst Case Scenario?
Steven Slaughter - Debating the International Legitimacy of the G20: Global Policymaking and Contemporary International Society
Frans-Paul van der Putten - Harmony with Diversity: China's Preferred World Order and Weakening Western Influence in the Developing World
Special Section - Contemporary Maritime Piracy: responding to a Wicked Problem, edited by Christian Bueger
Christian Bueger - The Global Fight against Piracy
Sarah Percy and Anja Shortland - Contemporary Maritime Piracy: Five Obstacles to Ending Somali Piracy
Douglas Guilfoyle - Prosecuting Pirates: The Contact Group on Piracy off the Coast of Somalia, Governance and International Law
Basil Germond - The European Union at the Horn of Africa: The Contribution of Critical Geopolitics to Piracy Studies
Christian Bueger - Orchestrating the Response: Somali Piracy and Ontological Complexity
Axel Klein - The Moral Economy of Somali Piracy – Organised Criminal Business or Subsistence Activity?

Special Section - Export Credit Availability and Global Trade, edited by Andreas Klasen
Andreas Klasen - Export Credit Availability and Global Trade
Jon Coleman - Why Exporters Need Export Credit
Geetha Muralidhar - The Role of Export Credit Agencies in a Fast-growing BRIC Economy
Peter Luketa - Export Credit Availability and the Euro Debt Crisis
Pedro Carriço - Export Financing in Brazil: Challenges and Opportunities

Survey Articles
Claire A. Auplat - The Challenges of Nanotechnology Policy Making PART 2. Discussing Voluntary Frameworks and Options
Practitioner Commentaries
Geoffrey D. Stevens - Controlling Munitions Stockpiles: How to Stop the Inadvertent Arming of Insurgencies
Response to Article
Djims Milius - 'Information Aid' and the Dissemination of Innovation
Review Essay
Thomas Kirk - The Rule of Law Abroad: Learning from Experience and Listening to Locals