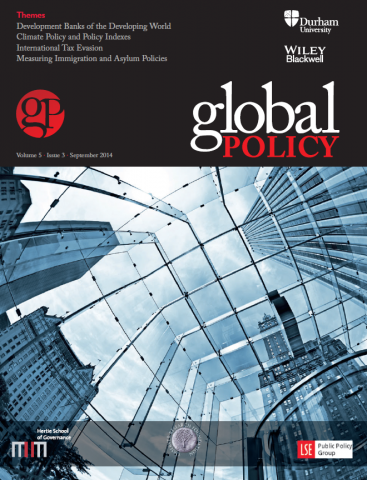 The September 2014 edition of Global Policy contains a special section on 'Development Banks of the Developing World', edited by Kathryn Hochstetler. It also features research articles on income inequality, tax havens, immigration policies and the changing global financial order. The issue's practitioners' commentaries focus on cities as global actors, post-crisis reconstruction in Africa and conflict resolution mechanisms in international financial organizations.
Research Articles

Justin Gest et al. - Measuring and Comparing Immigration, Asylum and Naturalization Policies Across Countries: Challenges and Solutions
Swenja Surminski and Andrew Williamson - Policy Indexes as Tools for Decision Makers: The Case of Climate Policy
Nives Dolšak and Kristen Houston - Newspaper Coverage and Climate Change Legislative Activity across US States
Mikko Huotari and Thilo Hanemann - Emerging Powers and Change in the Global Financial Order
Li Sheng - Income Inequality, Financial Systems, and Global Imbalances: A Theoretical Consideration
Richard Eccleston and Felicity Gray - Foreign Accounts Tax Compliance Act and American Leadership in the Campaign against International Tax Evasion: Revolution or False Dawn?
Ronen Palan and Duncan Wigan - Herding Cats and Taming Tax Havens: The US Strategy of 'Not In My Backyard'
Special Section - Development Banks of the Developing World, edited by Kathryn Hochstetler
Kathryn Hochstetler - Development Banks of the Developing World: Nature, Origins and Consequences
Deborah Bräutigam and Kevin P. Gallagher - Bartering Globalization: China's Commodity-backed Finance in Africa and Latin America
Mzukisi Qobo and Dimpho Motsamai - Developmental State Construction and Strategic Regionalism: The Continental Reach of South Africa's Development Finance Institutions
Kathryn Hochstetler - The Brazilian National Development Bank goes International: Innovations and Limitations of BNDES' Internationalization
Gregory T. Chin - The BRICS-led Development Bank: Purpose and Politics beyond the G20
Practitioner Commentaries
William Attwell - The Rise of Cities as Global Actors: What Consequences for Policy?
John O. Kakonge - Tackling the Challenges of Post-crisis Reconstruction in Africa: Lessons from the Field
Suresh Nanwani - Conflict Resolution Mechanisms in International Financial Organizations: Experiences and Collaborations in Broadening the Informal Process
Response to Article
Göran Collste - Colonialism, Epistemic Injustice and Global Justice
Review Essay
Hayley Stevenson - Global Politics and the Environment