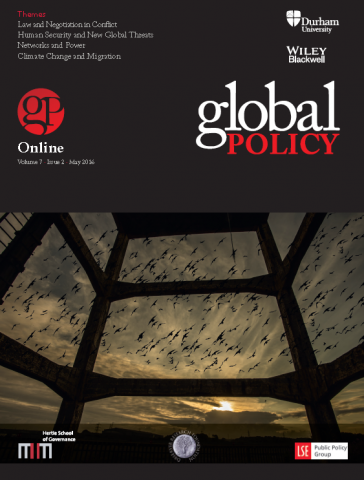 Global Policy's May 2016 issue contains, among others, research articles on ethics in warzones, human security, peace agreements, military expenditure and democracy promotion in fragile states. It has a special section on 'Law and Negotiation in Conflict: Theory, Policy and Practice', edited by Catherine Turner. It also features survey articles on Climate Change, Migration and the Cosmopolitan Dilemma; and the WTO in Nairobi.
Research Articles

Thomas G. Weiss - Ethical Quandaries in War Zones, When Mass Atrocity Prevention Fails
Mary Kaldor - How Peace Agreements Undermine the Rule of Law in New War Settings
Rogelio Madrueño-Aguilar - Human Security and the New Global Threats: Discourse, Taxonomy and Implications
Todd Sandler and Justin George - Military Expenditure Trends for 1960–2014 and What They Reveal
Moira V. Faul - Networks and Power: Why Networks are Hierarchical Not Flat and What Can Be Done About It
Philip Andrews-Speed and Xunpeng Shi - What Role Can the G20 Play in Global Energy Governance? Implications for China's Presidency
Juliet Johnson and Seçkin Köstem - Frustrated Leadership: Russia's Economic Alternative to the West
Nelli Babayan - A Global Trend EU-style: Democracy Promotion in 'Fragile' and Conflict-Affected South Caucasus
Vincenzo Bavoso - Financial Innovation, Derivatives and the UK and US Interest Rate Swap Scandals: Drawing New Boundaries for the Regulation of Financial Innovation
Survey Articles
David Held - Climate Change, Migration and the Cosmopolitan Dilemma
Rorden Wilkinson, Erin Hannah and James Scott - The WTO in Nairobi: The Demise of the Doha Development Agenda and the Future of the Multilateral Trading System
Special Section Articles
Catherine Turner - Editorial Comment: Law and Negotiation in Conflict: Theory, Policy and Practice
Martin Wählisch - Normative Limits of Peace Negotiations: Questions, Guidance and Prospects
Rashida Manjoo - Women, Peace and Security – Negotiating in Women's Best Interests
Aoife O'Donoghue - How Does International Law Condition Responses to Conflict and Negotiation?
Christopher K. Lamont and Hannah Pannwitz - Transitional Justice as Elite Justice? Compromise Justice and Transition in Tunisia
Aisling Swaine - Law and Negotiation: A Role for a Transformative Approach?
Practitioner Commentaries
Shintaro Hamanaka - Insights to Great Powers' Desire to Establish Institutions: Comparison of ADB, AMF, AMRO and AIIB
Jindra Cekan - How to Foster Sustainability
Jean-Marc Coicaud - Administering and Governing with Technology: The Question of Information Communication Technology and E-Governance