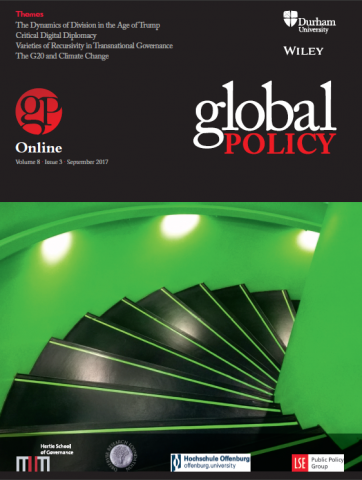 Global Policy's September 2017 issue contains, among others, research articles on the BRICS' new development bank, the G20 and climate change, protecting the human right to health, and digital diplomacy. It has a special section on 'Policy Instruments for Innovation, Investment and Global Trade'. It also features a survey article on non-communicable diseases and a practitioner's commentary on the United States foreign policy and the changing geopolitics of energy.
Research Articles
Andrew F. Cooper - The BRICS' New Development Bank: Shifting from Material Leverage to Innovative Capacity
Steven Slaughter - The G20 and Climate Change: The Transnational Contribution of Global Summitry
Jan Melissen and Emillie V. de Keulenaar - Critical Digital Diplomacy as a Global Challenge: The South Korean Experience
Catherine Long - Delegated Service Authority: Institutional Evolution of PEPFAR Health-Based Program Implementing Units in Tanzania
Alix Dietzel - The Paris Agreement – Protecting the Human Right to Health?
Druscilla Scribner and Tracy Slagter - Recursive Norm Development: The Role of Supranational Courts
Special Section Articles
Olga Malets and Sigrid Quack - Varieties of Recursivity in Transnational Governance
Olga Malets - Recursivity by Organizational Design: The Case of the Forest Stewardship Council
Leonhard Dobusch, Markus Lang and Sigrid Quack - Open to Feedback? Formal and Informal Recursivity in Creative Commons' Transnational Standard-Setting
Survey Article
Carmen Huckel Schneider, James A. Gillespie and Anne Marie Thow - Generating Sustained Political Priority for Non-communicable Diseases: Towards a Suitable Governance Model
Policy Insights
Piero Ghezzi - Mesas Ejecutivas in Peru: Lessons for Productive Development Policies
James K. Galbraith - Grexit, Brexit, Fixit … The Dynamics of Division in the Age of Trump
Practitioners' Special Section
Andreas Klasen - Introduction to the Special Section: Policy Instruments for Innovation, Investment and Global Trade
Anisse Terai - International Trade as an Engine for Sustainable Development: The ITFC Experience in Supporting SMEs
Vazgen Abgaryan and Shane Rosenthal - Supporting Exports: Challenges and Opportunities for Credit Insurance in Armenia
Philipp Eudelle and Ashin Shrestha - Foreign Direct Investment and Economic Growth: The Cases of Singapore and Oman
Merli Margaret Baroudi - Innovation in Political Risk Insurance: Experience from the Multilateral Investment Guarantee Agency
Mona Abou Hana - Innovation in the UAE: From First Foundations to 'Beyond Oil'
Areije Al-Shakar - Entrepreneurship: A New Era for Bahrain's Economy?
Practitioner Commentary
Morgan Bazilian, Benjamin Sovacool and Todd Moss - Rethinking Energy Statecraft: United States Foreign Policy and the Changing Geopolitics of Energy
Response to Article
Wieteke A. Holthuijzen and Bert Baumgaertner - Non-epistemic Values and Concerns about Evolutionary Mindsets in Conservation Policy