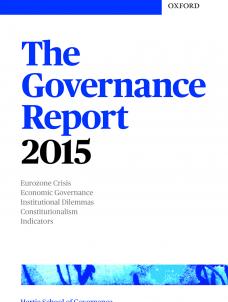 by Mark Dawson, Henrik Enderlein, Christian Joerges, and Liam F. McGrath.
The promise of an ever-closer union that has guided Europe from the Treaty of Rome to the present time rests on the evolution of democratic governance to meet the many challenges that European communities have faced in the past, are facing today, and will, undoubtedly, have to address in future. Now after years of ad hoc crisis management, the European Union has to take stock of its situation and focus on the issues that will fundamentally shape its long-term prospects. The Governance Report 2015, the third in the series produced by the Hertie School of Governance (Berlin, Germany) and published by Oxford University Press, takes an interdisciplinary approach to explore three of these issues: how stability in the Eurozone and the full integration of the European single market can be achieved, how new methods for consultation and decision-making have influenced the legal framework and institutions of the EU, and how crisis management has affected the Union's legitimacy. In addition, a set of governance indicators measure the convergence or divergence of European states over time. Ultimately, the Report seeks answers to the question of what can make Europe succeed, fail, or muddle through from a governance perspective?

Please click here for more information on the Report.
Responses:

Mario Telo - The EU's Changing Economic Governance: Continuity or Discontinuity? The Long Shadow of the Worst Eurozone Crisis Ever
If you would like to provide a Response to the Report please contact Richard Murphy, Global Policy's Reviews Editor.