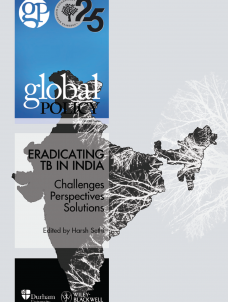 Global Policy is pleased to announce the release of a joint publication with the Observer Research Foundation; 'Eradicating TB in India: Challenges, Perspectives and Solutions', edited by Harsh Sethi.
India bears the world's largest burden of tuberculosis (TB), accounting for one-fourth of all new infections. Given that it kills nearly 300,000 people in India every year, the prevention and control of TB is a challenge at multiple levels, requiring the united efforts of a diverse range of stakeholders. While India has been proactive against TB in recent years, there is still a long way to go. This publication features articles from leading policymakers, administrators, technical experts, journalists and members of civil society working in India's TB landscape. It outlines the multifaceted nature of the TB epidemic, its impact on communities, learnings from global successes and the way forward towards tackling the disease successfully.
To download PDF please click here. For e-reader versions please click here.
Contents
Introduction
Harsh Sethi
1 The RNTCP: Mission for a TB-free India
R.S. Gupta
2 Enhancing the Quality of TB Care in India
Srinath Satyanarayana & Madhukar Pai
3 TB Control in India: Mapping the Gaps
Anurag Bhargava
4 MDR-TB in India: Past the Tipping Point?
Zarir F. Udwadia
5 India as TB's Innovation Hub
V.S. Chauhan
6 Stories from the Ground
Bijoyeta Das
7 The Great Gap
Nalini Krishnan
8 TB in my Backyard
Kalikesh Singh Deo
9 EPTB in Disdain: The Indian Public Health Scenario
Sarman Singh
10 Combating TB: A Global Perspective
Dalbir Singh
11 Building BRICS against Tuberculosis
Rani Mullen & Patrick Mullen
Citation: Sethi, H. 2015. Eradicating TB in India: Challenges, Perspectives and Solutions. London: Global Policy and Observer Research Foundation.