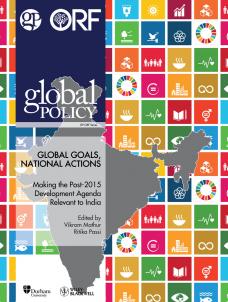 Sustainable development (SD) is a Trojan Horse of an idea. SD has, over the years, subsumed within it multiple meanings advanced by multiple actors—meanings that have often masked underlying normative orientations, worldviews and interests. The definition of the Brundtland Commission—development that meets the needs of the present without compromising the ability of future generations to meet their needs—is the most frequently cited definition. No one can dispute such an aspiration. But an agreement on the notion of sustainability often breaks down when we begin thinking of how to implement development that is sustainable. With the world having formally adopted the post-2015 development agenda, the set of 17 goals and 169 targets known as the Sustainable Development Goals (SDGs), developing countries such as India need to unpack and interpret the development framework to ensure its relevance to their development needs and interests. It is therefore a critical moment, between adoption and execution, to underscore the importance of a national lens through which to understand and implement these goals.
To this end, this volume, edited by Vikrom Mathur and Ritika Passi, unpacks the tensions inherent in various interpretations of SD by eliciting debates given varied value systems and national interests (introductory chapter); offers a framework through which to localise global goals like the SDGs (Chapter 2); focuses on 10 SDGs that are India's primary concerns (Chapters 3 to 12); and ends with an evaluation of the strengths and weaknesses of institutional architecture for implementing the SDGs in India (Chapter 13).
To download free MOBI (Kindle) and Epub versions of the e-book please click here.
Contents
1. Sustainable Development: Emergence of a Paradigm
Vikrom Mathur and Ritika Passi
2. International Norms and Domestic Change: Implementing the SDGs in India
Urvashi Aneja
3. Bridging the Gap Between Growth and Development
Tanoubi Ngangom and Parijat Lal
4. New Road to the Old Destination: Analysing the Hunger Goal
Sadaf Javed and Vidisha Mishra
5. Promoting Healthcare and Wellbeing for All
Nishtha Gautam
6. Quality Education for All: Can It Be Done?
Chandrika Bahadur
7. From MDGs to SDGs: Mainstreaming the Gender Goal
Vidisha Mishra
8. Providing Water and Sanitation for All
Sonali Mittra
9. Meeting India's Energy Needs Sustainably
Aniruddh Mohan
10. Economic Growth: Building Human Resources
Shubh Soni
11. Achieving the 3 'I's of SDG 9
Samir Saran and Shubh Soni
12. Addressing Urbanisation
Rumi Aijaz
13. SDGs in India, Institutionally Speaking
Sanjeev Ahluwalia
ENDNOTES
ABOUT
Citation: Mathur, V. and Passi, R. 2015. Global Goals, National Actions: Making the Post-2015 Development Agenda Relevant to India. London: Global Policy and Observer Research Foundation.