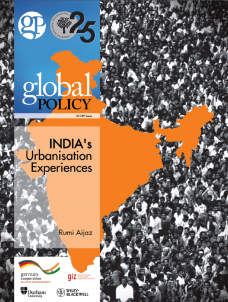 Global Policy is pleased to announce the release of a joint publication with the Observer Research Foundation; 'India's Urbanisation Experiences', authored by Rumi Aijaz.
This free publication provides information on key urban challenges facing India, and directions the country could take to absorb and manage future growth. Five aspects responsible for achieving sustainable urbanisation are reviewed: Urban population trends, implementation of master plans, housing for the urban poor, solid waste management and the need for smart cities. The analysis is based on a review of secondary sources as well as the workshops cum discussions organised by the Observer Research Foundation (ORF) with the support of Deutsche Gesellschaft für Internationale Zusammenarbeit (GIZ) during 2013-14 in New Delhi. India's leading scholars, practitioners and interest groups participated in the workshops and discussed ideas about how future urban policies and strategies should be shaped.
To download a free PDF version please click here. For free e-reader versions please click here.
Contents
Note from the Chair
Harsh Sethi
CHAPTER 1: Introduction
CHAPTER 2: Trends in Urban Population and Policy Issues
CHAPTER 3: Effective Implementation of Master Plans
CHAPTER 4: Affordable and Liveable Housing for Slum Dwellers and the Urban Poor
CHAPTER 5: Improving accountability in Management of Solid Waste
CHAPTER 6: Urbanisation and the Need for Smart New Cities
ABOUT
Citation: Aijaz, R. 2015. India's Urbanisation Experiences. London: Global Policy and Observer Research Foundation.