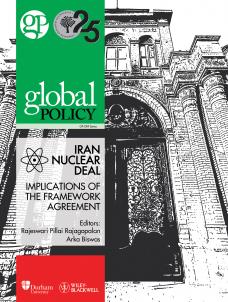 Global Policy is pleased to announce the release of a joint publication with the Observer Research Foundation: 'Iran Nuclear Deal: Implications of the Framework Agreement', edited by Rajeswari Pillai Rajagopalan and Arka Biswas.
Iran's nuclear programme has been under intense scrutiny from the international community for more than a decade now, as the country continues to play its cards close to its chest and its nuclear intentions remain unclear. Its failure to declare all nuclear facilities and materials in a timely manner has raised suspicion among the major powers and within the non-proliferation community. In this book, however, the effort is not to find fault in any of the approaches taken so far, or even to analyse the Iranian nuclear programme in any detail, whether it is military or civilian.
Instead this edited volume consists of nine chapters that deal with various aspects of the Iranian nuclear agreement reached on 2 April 2015. Opening with a technical assessment of the Iranian nuclear agreement by Sheel Kant Sharma, the monograph has two chapters focusing on regional reactions: an Israeli perspective authored by Emily Landau, and Gulf reactions written by Kanchi Gupta. Two chapters analysing the three major-power perspectives are included: the US perspective, written by Sylvia Mishra and Uma Purushothaman; the Russian perspective authored by Petr Topychkanov; and the European perspective, by Britta Petersen. Two chapters in the volume are focused on the Indian perspective, one by Arka Biswas providing an overall assessment of India's response to the Iran nuclear agreement, and a second one by Akhilesh Sati, exploring the possible implications on India's energy security. Lastly, Rakesh Sood has authored a chapter looking into the impact of the Iranian nuclear agreement on the global non-proliferation architecture.
To download the free e-book please click here (MOBI and Epub versions). Or for PDF versions of GP-ORF series publications please click here.
Contents
I Introduction by Rajeswari Pillai Rajagopalan
II Assessment of Lausanne Framework Accord with Iran by Sheel Kant Sharma
Regional Responses
III From Reaction to Action: Framework Agreement and Gulf Responses by Kanchi Gupta
IV From Lausanne to June 30th: Some New Messages from Israel by Emily B. Landau
Major Power Perspectives
V The United States' Strategy of Engagement towards Iran by Sylvia Mishra and Uma Purushothaman
VI Iran Nuclear Framework Agreement: A Russian Perspective by Petr Topychkanov
VII The Long Road to Lausanne and the Way Forward for the EU with Iran by Britta Petersen
India and the Framework Agreement
VIII Iran Nuclear Framework Agreement: Impact on India's Energy Calculations by Akhilesh Sati
IX India's Approach to the Iran Nuclear Framework Agreement by Arka Biswas
Global Non-Proliferation Regime
X Impact on the Global Non-Proliferation Architecture by Rakesh Sood
Annexure
I. Joint Statement by EU High Representative Federica Mogherini and Iranian Foreign Minister Javad Zarif Switzerland
II. Parameters for a Joint Comprehensive Plan of Action Regarding the Islamic Republic of Iran's Nuclear Program (White House Fact Sheet)
III. Iranian Fact Sheet on the Nuclear Negotiations (English Translation)
Citation: Rajagopalan, R.P. and Biswas, A. Iran Nuclear Deal: Implications of the Framework Agreement. London: Global Policy and Observer Research Foundation.