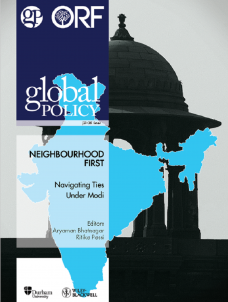 Edited by Aryaman Bhatnagar and Ritika Passi, this publication brings to focus India's policy towards its immediate and extended neighbourhood—South Asian Association for Regional Cooperation (SAARC) members, Iran, China and Myanmar—under Modi thus far. Each country-specific chapter describes bilateral ties, debates elements of continuity or change since the new government has come to power, and explores future prospects for ties under Modi given existing challenges and opportunities. Thematic chapters also intersperse this publication, which contextualise India's neighbourhood policy and its bilateral ties in the region.
To download free MOBI (Kindle) and Epub versions of e-book for any e-reader please click here. Or for PDF versions of all GP-ORF series publications please click here.
CONTENTS
1. India, India's Neighbourhood and Modi: Setting the Stage
Ritika Passi and Aryaman Bhatnagar
2. India's Neighbourhood Policy through the Decades
Ashok Malik
3. Dealing with Pakistan: India's Policy Options
Radha Kumar
4. India's Afghanistan Policy: Going beyond the 'Goodwill' Factor?
Shanthie Mariet D'Souza
5. India's Iran Policy in a Changed Dynamic
Kanchi Gupta
6 Why Engage in a Neighbourhood Policy? The Theory behind the Act
Varun Sahni
7 India's China Policy under Narendra Modi: Continuity and Change
Alka Acharya
8 Modi's 'Act East' Begins in Myanmar
K. Yhome
9 China's Role in South Asia: An Indian Perspective
T.C.A. Rangachari
10 India-Nepal Relations: On the Threshold
Jayant Prasad
11. Paradigms in India-Bhutan Relations and Pathways for Cooperation
Medha Bisht
12. India-Bangladesh Relations in Modi's Era
Joyeeta Bhattacharjee
13 The Domestic Elements: States as Stakeholders
Shashi Tharoor
14 India-Sri Lanka Relations under Modi
Rajeswari Pillai Rajagopalan
15 India-Maldives Relations: Solid Base, Shaky Structure
N. Manoharan
16 SAARC at Thirty: Integration by Parts
Sheel Kant Sharma
Citation: Bhatnagar, A. and Passi, R. 2016. Neighbourhood First: Navigating Ties under Modi. London: Global Policy and Observer Research Foundation.