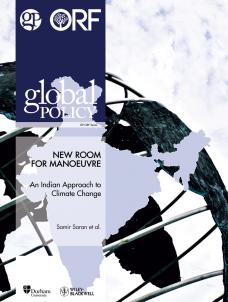 Samir Saran's essays in this joint publication from Global Policy and the Observer Research Foundation illuminate the way forward for climate financing, technology transfer and green growth, providing an invaluable read to politicians, researchers and students of India's climate diplomacy.
Despite economic, social and scientific realities, the global narrative on climate change has long been trapped in a Manichean world, in which India has often been portrayed as a deal breaker or a standout. This compilation of articles breaks the mould, situating India's role in the global political and economic realities of our time. India, as he succinctly argues, is indeed the exception in the arc of global development: The environmental imperative to fight climate change requires India to develop an unprecedented and untested model of industrialisation. And while doing so, we may note that India has to successfully meet its twin imperatives of poverty eradication and equitable growth. That policymakers, not only in India but globally, too, should acknowledge, accept and adapt to this reality is the key implication of what Samir suggests. He deconstructs this challenge into one which responds to India's lifeline needs and the other, which attends to the lifestyle aspirations of its people.
To download the free e-book for any e-reader or as a PDF click here.
Contents
ENDORSEMENT
FOREWORD
1. Author's Note: Room to Manoeuvre
2. Indian Exceptionalism and Realistic Responses to Climate Change
Energy Options
3. Indian Leadership on Climate Change: Punching above its Weight
4. The False Debate on India's Energy Consumption
Pragmatic Solutions
5. India's Climate Change Strategy: Expanding Differentiated Responsibility
6. The Tricky Path to a Global Agreement
7. Calibrating India's Climate-Change Response
8. An 'India Exception' and India-US Partnership on Climate Change
Implementing Change
9. The Paris Package: Setting the Finance Agenda for Climate Action
10. The Tyranny of Technology: Aligning the Old with the Real
The Indian Proposition
11. Walking the Tightrope between Reality and Ambition
Citation: Saran, S. 2015. New Room to Manoeuvre: An Indian Approach to Climate Change. London: Global Policy and Observer Research Foundation.