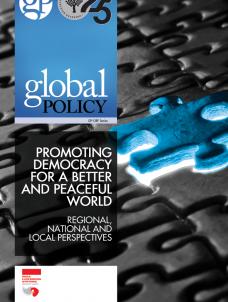 Global Policy is pleased to announce the release of a joint publication with the Observer Research Foundation: 'Promoting Democracy for a Better and Peaceful World: Regional, National and Local Perspectives'.
The significance of democracy is widely appreciated and its principles have been applied in most parts of the world. But democratic experiences vary greatly. Increasingly, the failure of governments in practising democracy in a fair and equitable manner is leading to tension and conflict between the civil society and the government.
This edited volume describes various impediments to democracy at the regional, national and local level, and offers ideas for successfully promoting democracy to achieve the fundamental goal of creating a better and peaceful world.
The publication is based on papers presented by scholars from India, Nepal, Sri Lanka, Turkey, Egypt and Germany during a two-day conference organised by the Observer Research Foundation with the support of the Rosa Luxemburg Stiftung in Delhi. It covers the following four themes: New Wave of Democracy in Asia; Contemporary Challenges – is Federalism the Answer?; Democracy at the Grassroots – Rural and Urban Contexts; and Social Media and Democracy.
To download the free e-book please click here (MOBI and Epub versions). Or for PDF versions of all GP-ORF series publications please click here.
Contents
Author Profiles
1. Editorial Introduction - Rumi Aijaz
2. Indigenisation of Democracy in South Asia - Rohit Kumar Nepali
3. New Democratic Patterns in West Asia and the Middle East: Perceptions and Challenges for the Left - Jörg Schultz
4. Democracy and Rising Inequalities in India - Zoya Hasan
5. Space for Federalism: Perspectives from Sri Lanka - Pradeep Peiris
6. What Works is What Matters! An Investigation into Successful Practices of Panchayati Raj Institutions in India - Saurabh Johri
7. The 3C-Model of Grassroots-led Development: Challenges and Prospects of Grassroots Democracy in Rural Egypt - Solava Ibrahim
8. Select Participatory Mechanisms in Turkey: The Urban Context - Korel Göymen
9. Local Politics, Democracy and Participation in Berlin - Katrin Lompscher
10. Networked Societies and Hierarchical States: The Emerging Challenge to Political Order - Nitin Pai and Sneha Shankar
11. Politics of Digitally Mediated Spaces: The Scripted Logic of Inclusion and Exclusion - R. Swaminathan
Endnotes and References
About
Citation: Aijaz, R. 2015. Promoting Democracy for Creating a Better and Peaceful World: Regional, National and Local Perspectives. London: Global Policy and Observer Research Foundation.