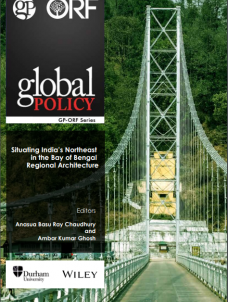 India's Northeast region has the potential to be the centre of the country's connectivity outreach and commercial endeavours in the Bay of Bengal region. Such interconnectedness is with India's South Asian neighbours and Southeast and East Asian countries within the larger Indo-Pacific region. As an increasingly significant partner in the region, Japan has a long experience of investing in connectivity projects, especially in the Northeast.
Against this backdrop, this volume aims to capture the potential of the Northeast region as a crucial connecting space that can enhance India's cross-border diplomatic, infrastructural, and commercial interactions within the Bay of Bengal regional architecture by balancing it with the Northeast's own developmental priorities and security concerns. The volume also intends to explore the extent of Japan's engagement in infrastructural development in this region, given the country's wide experience in the field of connectivity. Japan's lead on this pillar of a free and open Indo-Pacific may prove to be a great fillip for connectivity initiatives in the region in future.
Please find versions for e-readers here and a pdf here.
Introduction
Section I: Northeast as a connecting space
1. When Practice Meets Policy: How Border Regions are Localising India's Neighbourhood Policy by Nimmi Kurian
2. The Importance of India's Northeast: A Subregional Perspective by C. Joshua Thomas and Haans J. Freddy
3. India's Eastward Engagements: From Look East to Act East by Durga Prasad Chhetri
Section II: Connectivity for Prosperity
4. The Politics of Connectivity in the Northeast: Regional, National and Local Dimensions by Udayan Das
5. Exploring the Cultural Proximity Between Northeast India and Southeast Asia: The Manipur Experience by Vijaylakshmi Brara
6. The Importance of the Bay of Bengal for India's Northeast Region by Sohini Bose and Pratnashree Basu
7. India-Japan Partnership in the Bay of Bengal: Renewed Focus on India's Northeast by Madhuchanda Ghosh
Section III: Development Agenda
8. The Idea of a Sustained Northeast in India's Transregional Economic Architecture by Rakhee Bhattacharya
9. Economic Cooperation via Northeast India: Evolution through Infrastructure and Sustainable Development by Nilanjan Ghosh, Soumya Bhowmick, and Roshan Saha
10. Strengthening Connectivity in India's Northeast: The JICA Experience by Saito Mitsunori
11. Trade And Developmental Opportunities in India's Northeast: A Tripura-Centric View by Indraneel Bhowmik
Section IV: Security Conundrum
12. Three Narratives of Connectivity, Development, and Insurgency in Northeast India: Analysis and Implications by Alex Waterman
13. Multilateral Connectivity and Importance of the Northeast in BIMSTEC: A Security Dimension by Pahi Saikia
14. India's Northeast: The Challenge of a Volatile Neighbourhood by Subir Bhaumik
15. Changing Security Dynamics in Northeast Augurs Well for BIMSTEC by Niranjan Sahoo