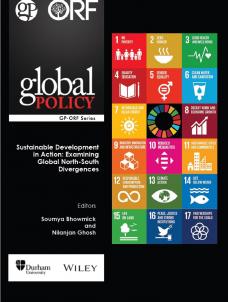 This GP-ORF volume explores the potential to alter the trade-offs existing within the SDGs framework into synergies considering the post-pandemic development priorities. The volume is divided into the three main domains that define Agenda 2030—people, planet and prosperity.
The global development paradigm is at a critical crossroad. The COVID-19 pandemic has not only exposed the vulnerabilities of global economies no matter their positions in the global development curve, but also showed the divergence the capacities of the Global North and South to combat the crisis. Further, the post-pandemic economic revival is not exhibitive of the axiomatic north-south divide. Yet, there is no denying that social security and the welfare state—or the lack of it in certain economies—were important in providing a much-needed cushion under shocks. Indeed, the pandemic has been a 'global common'.
At the same time, the UN Sustainable Development Goals (SDGs), which have emerged as the cornerstone of global development governance in recent years, ended up the victim of this new 'global common'. The 2030 Agenda for Sustainable Development, encompassing a shared vision of peace and prosperity for the planet across space and time, was adopted by all the UN member nations in 2015 at the end of the tenure of the Millennium Development Goals.
To download the volume for Kindle or Epub readers please click here. For the Pdf please click here.
Contents
Introduction: Development at the Crossroads by Soumya Bhowmick and Nilanjan Ghosh
People: Robust Processes and Better Societies
1 Globalisation and the South Asian Farmer by Yoginder. K. Alagh
2 A Queer Economic Lens on the SDGs by M. V. Lee Badgett
3 SDG 6: Blending Two Visions of Resilience for Water by John H. Matthews
4 War, Peace and Conservation: Partnerships as a Pathway to Achieving the SDGs by Emil Uddhammar
5 Education, Technology Diffusion, and Human Capital Accumulation: Trends and Concerns for Developing Countries by Andrea Cabello
6 Human Rights in Outer Space: Building on SDG 16 by Robin Ramcharan
7 Mental Health in an Unequal World: Assessing the Impact of COVID-19 by Shoba Suri
8 Land Reforms and Optimal Farm Size: Linkages with Rural Inequality and Socioeconomic Development by Roshan Saha
Planet: Synergising Enterprise, Environment and Communities
9 Towards an Equitable and Sustainable Blue Economy in Australia by Tania Lado Insua, John Whittington, David Hope, and Irene Penesis
10 E-Mobility for a Sustainable World: Unavoidable Automobility and Global South-North Perspectives by Joyashree Roy and Shreya Some
11 Valuing Nature's Contribution by Madhu Verma and Asi Guha
12 Measuring Progress in Pursuit of the Planet Goals by Anamitra Anurag Danda
13 Towards an Inclusive Wealth-Based Measure of Sustainable Development by Preeti Kapuria
Prosperity: Of Lives and Livelihoods
14 Growth-Development-Environment: Embracing an Ensemble Approach to Sustainability by Purnamita Dasgupta
15 Overcoming Pandemic-Exacerbated Youth Unemployment in Africa by Theophilus Edwin Coleman and Letlhokwa George Mpedi
16 Paradiplomacy as a Pathway to Achieve SDG 11: Is Urban India Ready? by Renita D'Souza
17 High-income and Highly Unequal: The US Falls Behind in SDGs 8 and 10 by Terri B. Chapman
About the Editors and Authors