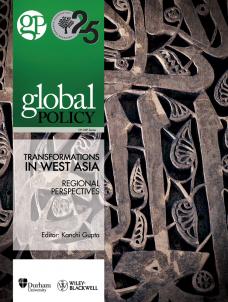 The first edition of the West Asia Conference was held successfully in March 2014 with active support from the Indian Ministry of External Affairs (MEA). The purpose of the conference was to bring together stakeholder opinions and perspectives from India and West Asia on the developments in the region and their global implications. ORF published a special report titled "Transformations in West Asia: Perspectives from Egypt, Israel, Libya, Qatar, Turkey and India" to collate the critical issues discussed during the interactions.
The conference was proposed as an annual event, and following the success of the first, ORF sought to broaden participation from both concerned regions to foster in-depth analysis of crucial developments in West Asia and their impact on India. The second edition, titled "Transformations in West Asia: Regional Perspectives," saw conversation on developments that followed the Arab Spring, which have created instability and political uncertainty throughout the West Asian region; fluctuations in the region's geopolitics because of the changing role of extra-regional powers; economic, political and strategic commonalities that have given rise to new avenues for cooperation between India and the region; and the growth of religious extremism and terrorism, which has emerged as another important dimension in shaping India-West Asia relations. The papers* presented in this short volume represent these conversations.
To download the free e-book for any e-reader or as a PDF click here.
CONTENTS
Editor's Note
Kanchi Gupta
1. Introduction
Anil Wadhwa
2. The Arab Spring: Four Years Later
Jawad Kerdoudi
3. The Changing Middle East and the Crumbling Political Order: An Israeli Perspective
Kobi Michael
4. Extremism and Terrorism, Challenges and Impact on India-West Asia Ties
Ra'ed Fawzi Ihmoud Ihmoud
5. The Role of External Powers in the Middle East
Pinak Ranjan Chakravarty
6. The United States and its Allies on the Iranian Nuclear Negotiations
Mehmet Yegın
Citation: Gupta, K. 2016. Transformations in West Asia: Regional Perspectives. London: Global Policy and Observer Research Foundation.