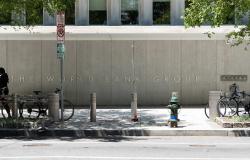 This paper presents a comparative analysis of the environmental and social policies of the Asian Infrastructure Investment Bank (AIIB) and the World Bank. Our objective is to assess how the AIIB innovates in the international financial order in terms of Environmental and Social Assessment (ESA) instruments. We analyse projects financed by the two institutions in India between 2017 and 2020, considering both institutions' social and environmental standards. First, we compare the social and environmental guidelines of both financial institutions extensively. Then, we analyse 20 projects carried out in India during this period, considering the amounts invested, risk classification policies, and the adopted ESA instruments. Finally, we conduct two case studies analysing each organization's ESA instruments based on 10 parameters of comparison. We conclude that the AIIB portrays itself as a 'middle way' bank, with the internalization of some standards of the already established multilateral development banks (MDBs), but with several innovative characteristics. We identify the incorporation of some World Bank guidelines used in ESA instruments in AIIB projects. Nevertheless, the AIIB innovates through its focus on infrastructure, the variability of its project sizes, more integration with the borrower's national policies and programmes, and the simplification of socio-environmental analysis instruments.
Policy Implications
The AIIB internalizes some standards of the already established Multilateral Development Banks (MDBs) but presents particular innovative characteristics.
Even with the hegemony role of the World Bank in the multilateral development finance landscape, there is still room for normative innovation in the field.
Compared to existing MDBs, the AIIB has simplified the Environmental and Social Assessment (ESA) instruments and risk analysis.
AIIB officials must evaluate its projects' environmental and social impacts with the same – or similar – indicators of other BDMs to confirm that simplifying ESA standards does not result in less sustainable projects.
The AIIB must avoid using unreliable and outdated data regarding its projects' ESA to assure the quality of its reports.
The AIIB must be more transparent regarding its sampling methods for conducting public consultations of its projects' ESA and should publicize the results of these inquiries in English to facilitate access to information to a broader public and increase the transparency of the process.
Image: Jonathan Cutrer via Flickr (CC BY 2.0)