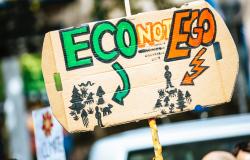 The social contract has long been used to describe the advantages of individual submission to the body politic. Although a considerable focus has been dedicated to the individual affordances of the social contract, less attention has been paid to the factors that condition individuals' willingness to sacrifice for the collective. For scholars of political science, it is useful to understand the social contract's enabling factors, those conditions which motivate constituent support for public policies and influence citizens' willingness to limit individual freedoms in exchange for greater social security and assurances of collective wellbeing. In this paper, it is theorized that citizens lend their trust to public institutions to enable a social contract. Further, it is hypothesized that individuals who exhibit stronger enabling factors are more likely to contribute to a global conceptualization of the social contract that is committed to international climate policy objectives. Toward that end, an exploratory and descriptive analysis of several existing data sets examines the relationship between the enabling factors of public trust and the outcomes of environmental policy to survey the strength of variable associations that condition support for international climate policy commitments necessary to maintaining a contemporary social contract (CSC).
Policy Implications
International climate policy commitments are threatened by domestic declivities associated with confidence in government and trust in social institutions.
When declining indicators of government confidence merge with distrust in media, the social contract is jeopardized and the likelihood of issue freeze and policy stalemate is magnified.
Policy makers must confront climate policy intractability and consider how citizens can be nudged from passive climate policy acceptance to active support for international climate policy commitments.
Efforts to improve citizen's confidence in government and trust in social institutions are vital to increasing compliance with international climate policy accords.
Citizens with above average confidence in government are more likely to support protections for the environment – even when these require a willingness to sacrifice economic advantages.
Improving citizens' confidence in the media increases citizens' confidence in democratic systems and enhances support for international climate policy.
The improved collection of longitudinal measures of institutional trust and confidence in government could be used to better understand factors that impact citizens' willingness to sacrifice for the global good.
Photo by Markus Spiske