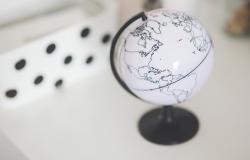 The Anthropocene thesis, albeit not an unproblematic starting point, foregrounds the inadequacy of tacitly reproduced assumptions, theoretical dispositions, and conceptual repertoires which have supported a critical mass of legal thinking and praxis. Acknowledging the disruptive effects of the 'Anthropocene' for law, my aim in this article is to make explicit that re-imagining law for the Anthropocene requires letting go of dominant ways of thinking and doing law, while enabling more adequate conceptions and modes of engagement to take hold. I suggest that the process of re-imagining law for the Anthropocene requires navigating a space of continuity and break that demands the legal discipline to confront questions about disciplinary identity and responsibility. Reflecting on what the process of re-imagining law might entail and how it could unfold, I propose the 'question of possibilities' as a leitmotif and ask: What could law become? In so doing, I map out concrete strategies and commitments which might inspire and encourage engagement with this question. These include: a practice of radical self-reflection, the cultivation of a generative outlook, the acknowledgement of legal multiplicity, and a persistent commitment to meaningful change.
Policy Implications
Given its urgent implications for political decision-making, academic discourse on law and the 'Anthropocene' cannot be regarded as an eccentric thought experiment. Rather, decision-makers must acknowledge that scholarly discussions about law and the Anthropocene have immediate relevance.
The project of re-imagining law for the Anthropocene presents an opportunity for academic communities, practitioners, civil society, and policymakers to collaboratively explore how decision-making processes and governance systems might more adequately respond to Anthropocene states of affairs.
As discourse on law and the Anthropocene begins to spread beyond pockets of specialist academic communities, the task is to prepare for theoretical, conceptual, and methodological reconfigurations of law.
Policy professionals can contribute to efforts of re-imagining law for the Anthropocene by facilitating alternative conceptions of law to find resonance in practice.
Photo by Kaboompics.com