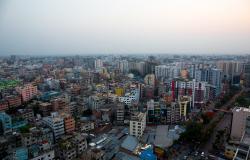 Addressing sources and drivers of precarity among marginalized migrant populations in urban spaces is central to making cities inclusive, safe, resilient and sustainable for all. Yet dominant policy discourses continue to frame migrants as problematic causes of insecurity and tend to exclude them from policy processes. Deliberative democratic theory suggests that inclusive processes have the potential to create innovative solutions for resilient cities. This study elicits and reports on self‐identified sources of precarity and insecurity as experienced by new low‐income migrant populations. It combines visual ethnography and deliberative democracy tools in an action research process that facilitated dialogue between migrant populations, urban planners and policy stakeholders. The objective is to elicit policy opportunities and constraints for changing dominant discourses, with a view to enhance marginalized lives and to implement sustainable urban infrastructure in Chattogram, the second largest city of Bangladesh. The results show options for addressing precarity, developed through facilitating migrants and planners to engage with each other's perspectives. Priorities include focusing on insecure tenure, exposure to environmental hazards, and representation in planning processes. Integrating the perspectives and lived experiences of migrant urban populations into policy processes potentially leads to more effective, sustainable and legitimate solutions.
Policy Implications
Mainstreaming deliberative and participatory processes into urban planning and policymaking has the potential to improve legitimacy and compliance with decisions and to foster sustainable and inclusive urban development.
Urban development policies currently focus on the planning and development of infrastructure, services and industries, but need to explicitly recognize the needs and requirements of new urban migrants who are differentially affected by urban precarity, depending on age, gender, ethnicity and geographic location.
As demonstrated in the lived experiences of migrants in Bangladesh, urban precarity is a multidimensional condition with intertwined material and social components. Urban planning and policy need to reach beyond incomes and housing to also include skills, education, security and social networks as urgent policy priorities.
Relevant government agencies in Bangladesh could review existing policies and strategies, including current approaches of treating migration as a failure of local level adaptation.
The government of Bangladesh may consider preparing policies on internal migrants that would address different manifestations of urban precarity of new migrants. These should consider providing access to public facilities and services including health, education, social protection and secured tenure services for new migrants. They should further ensure the accountability of employers to provide adequate working conditions and fair wages to all migrants, regardless of age, gender or ethnic identity.
Photo by Kelly Lacy from Pexels