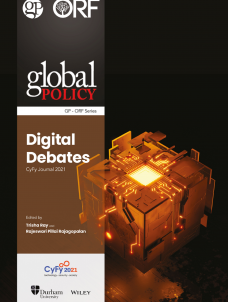 The past year has brought several complex questions to the fore: Should digital platforms be able to take decisions that challenge sovereign laws or reinterpret them? Is there a fundamental tension between the global reach of digital giants and the fact that they are primarily shaped by the mores and cultures of small, isolated communities, and subject to the laws, political processes and ethics of the country they are headquartered in? And are global digital norms and values achievable or even desirable?
Edited by Trisha Ray and Rajeswari Pillai Rajagopalan, contributors to the 2021 CyFy Journal analyse ongoing 'battles' between enduring Leviathans (states) and giant technology corporations that shape how we consume, interact and generate value online. The narratives around a 'third way' and propagation of the concept of 'cyber sovereignty' point to a new anxiety that grips nations and communities globally. These drivers are compelling many to autonomously forge a path to the Fourth Industrial Revolution amid tensions between the world's two largest economies, the US and China, and to escape the virtual monopoly of a handful of companies.
The journal's collection of essays point towards several possible tech futures, many of which are marked by inequities along the lines of access, capacity, agenda-setting power, and capital. And while the precise contours of our morrows will always remain unknowable, the discussions they contain feed into attempts to critically examine and debate issues at the intersection of technology, security and society, and on occasions bravely suggest approaches to adopt.
To download the volume for Kindle or Epub readers please click here. For the Pdf please click here.

Content
EDITORS' NOTE
HARMS
1 Greater Harm Is Not Inevitable: How Global Collaboration Can Reduce Ransomware Threat by Philip James Reiner
2 Gender as a 0-1 Binary: Future of Gender and Sexual Identity in India's Digital Health Journey by Abhinav Verma
3 Challenging the Dogmatic Inevitability of Extraterritorial State Surveillance by Arindrajit Basu
4 Space-Nuclear Nexus: The Interface Between Key Technologies by Victoria Samson
NORMS
5 Understanding the UN Cyber Processes as Conflict Management Tools by Abagail Lawson
6 Codes and Coalitions: Path to Global Governance of Artificial Intelligence? by Smriti Parsheera
7 Responsible Behaviour, Accountability and Consequences in the Chrome Age by James A. Lewis
NARRATIVES
8 US vs Big Tech: Ten Trends Pointing to a Fundamental Relationship Reboot by Nikhila Natarajan
9 It is Not Just the State, It is a Complicated Ecology by Paul Cadario
10 Bridging the Space Governance Divide: Beyond East vs West Dynamics by Daniel Porras
SOLUTIONS
11 India's Opportunity to Lead by Example in Collaborative Technological Evolution by Nisha Holla
12 Open Data a Critical Tool for Crises: Can India Make Better Use of it? by Samuel Neufeld and Sridhar Ganapathy
13 Trends in Lunar Exploration: Examining the Governance Challenges by Nivedita Raju
ABOUT THE EDITORS AND AUTHORS