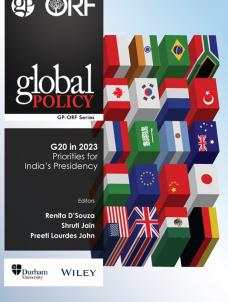 India will assume the G20 presidency on 1 December 2022 at a critical juncture in global affairs. This presidency provides India with the opportunity to steer one of the more effective multilateral forums for global governance. India's presidency is momentous for several reasons. The critical challenges confronting humanity today are global in character, not confined by national boundaries, and require collective action. Solving these challenges demands multilateral initiatives. Nevertheless, multilateralism is in a state of decline. The failure to cope with the COVID-19 pandemic and the inability to avert the Russia-Ukraine war has further accentuated the fault lines in multilateralism.
India's presidency is an opportunity to revive multilateralism. Edited by Renita D'Souza, Shruti Jain, and Preeti Lourdes John, this collection of essays explore how India can steer the empowerment of alternative international institutions of global governance that respond to the realities of the twenty-first century and direct global governance in the 'decade of action' to deliver the Sustainable Development Goals (SDGs).

Please find versions for e-readers here and a pdf here.
Introduction
1. Sustainable Economic Recovery: G20 in Troubled Times by Stormy-Annika Mildner
2. Which Way Forward for Global Economic Relations in 2023? by Heribert Dieter
3. Decarbonising the Global South: Energy Transition Imperatives and Priorities for India's G20 Presidency by Venkatachalam Anbumozhi
4. Defining India's Agenda for Sustainable Finance at G20 by Suranjali Tandon
5. Under India's Presidency, G20's Digital Economy Agenda Must Evolve by Rohinton Medhora and Paul Samson
6. Stability, Continuity, and Resilience: Infrastructure Aspirations from India's G20 Presidency by Fahad Alturki
7. India's G20 Presidency Must Address the Fundamental Causes of Global Health Inequities by Sridhar Venkatapuram
8. Gender, Education and Future of Work: Three Priorities for the Employment Working Group in 2023 by Gala Díaz Langou
9. The G20 Finance Agenda for Crypto Assets in 2023 by Ussal Sahbaz
10. Securing a future of precarity: Recommendations for the Y20 in 2023 by Erin Watson
About the Editors and Authors