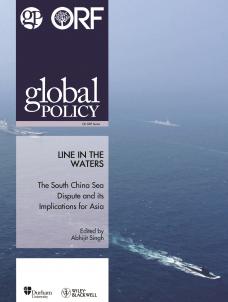 Part of the GP-ORF series, Line in the Waters, edited by Abhijit Singh, looks at emerging security dynamics in the Southeast Asian littorals and their impact on Asian geopolitics and security.
It presents country perspectives of the strategic implications of recent developments in the South China Sea, their implications for maritime security and the regional balance of power. After an Arbitral Tribunal pronounced a verdict in July 2016, invalidating China's historical rights in the South China Sea, there is fear that the dispute might turn into a flashpoint for conflict. Beyond dwelling on the strategic deadlock that characterises the current state-of-play, contributors outline possible solutions and a way forward.
To download the free e-book please click here (MOBI and Epub versions). Or for PDF versions of GP-ORF series publications please click here.
Contents
Arbitration on the South China Sea: Implications for Maritime-Asia | Abhijit Singh
Freedom of Navigation: A Critical Security Imperative | Jeff M. Smith
The Sino-US Security Dilemma: The Root Cause and Way Out | Teng Jianqun
Singapore's Security Dilemma | Koh Swee Lean Collin
Indonesia's South China Sea Problem | Ristian Supriyanto
Vietnam's Regional Security Challenges | Ha Anh Tuan
Duterte's Geopolitical Game-play | Richard Javad Heydarian
A Japan-India Partnership in Maritime-Asia | Satoru Nagao
Citation: Singh, A. 2017. Line in the Waters: The South China Dispute and its Implications for Asia. London: Global Policy and Observer Research Foundation.