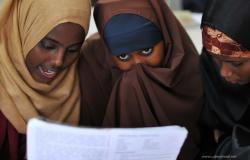 This paper examines the connections between identity politics and European Union (EU) aid effectiveness in peacebuilding education in Somalia. It engages with a severe educational challenge, which is that a lack of capacity in rigorous educational design and/or implementation across Somali Ministries in the South Central Zone, Somaliland and Puntland has led to the importation of multiple foreign curricula into the country simultaneously that do not address Somali history and contemporary conflict drivers and that frequently clash with local values as well as with each other. We critique this from a 'new barbarism' perspective, arguing that Somali voices and educational priorities have not been provided a sufficient space for expression in the EU debate on the global and therefore also the national development agenda.
Policy Implications
EU and international interventions in the Horn of Africa have focused in recent years on stabilisation through development. However, these reforms have not taken into consideration the unique problematics and opportunities presented by the Somali case, and they have failed to conceptualise the delivery of education as an aggravating factor exacerbating conflict.
In order to promote genuine societal transformation, we need to be moving away from peace education delivery that aims to make people less violent or less barbarian, towards peacebuilding education that aims to question the critical role of education in society in order to overcome social injustice.
Such education should not only question the impact of culturally distinctive structures like the clans on the peace process, but also the role of the internationally community in propping up, formalising and legitimising the inequalities caused by these structures.
Ultimately, however, it should move away from understandings of EU and Western values as being universal or culturally neutral towards a strategy that critically assesses the role of all educational actors regardless of identity in order to promote the development of a peacebuilding educational strategy that is relevant to and respectful of Somali society.
Significant EU funding has now been channelled into creating a unified curriculum for a unified Somali people. Yet this has not translated into consolidation of the education sector as a whole. Without critical reflection on the importance of ideology in curriculum design, there is a danger that the EU will continue to inadvertently legitimise attacks on schools and educational institutions in the Somali conflict. Local development needs to be at the top of the policy‐makers list not at the bottom.