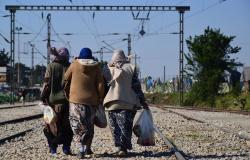 Refugee camps and reception and identification centres (RICs) have long been imagined as 'the best' or 'most suitable' places for displaced people by states and border management authorities. In contrast, informal housing often provided by activist groups, is frequently framed as a part of the urban 'badlands'. Drawing on research carried out between 2015 and 2019 in key spaces in Greece and Serbia along the so‐called 'Balkan Route', this article engages with the concept of the 'badlands' as a lens through which to consider the different types of housing made available for refugees in key urban centres. Following Dikeç (2007), Neely and Samura (2011), and Shabazz (2015), we examine how sites of refugee accommodation are imagined through the lenses of place, space and race and how this shapes policy responses. We ask: what are the main divergences and variations between formal refugee housing and informal sites? Why, given the poor conditions of most refugee camps, are they still viewed as the 'best' solution to housing? What role do policy decisions play in 'othering' spaces, places, groups and individuals? We examine the spatial effects of multiple policy levels and interventions (EU, national, local, grassroots) on refugee accommodation.
Policy Implications
Overcrowding is one of the main factors affecting quality of life in all types of refugee housing. Mainland camps and informal housing provision such as squats, are often able to manage the numbers of residents, unlike island reception and identification centres (RICs). Regulating numbers on the islands through the use of transfers and a quicker more efficient asylum process which recognises individuals' rights to seek refuge and to cross borders is a key priority.
Refugees are driven towards informal housing such as squats and makeshift settlements for two main reasons: poor camp conditions or overcrowding, and uncertainty over the asylum process, including long waits for asylum interviews in Greece. We recommend improved conditions in formal housing provision, as well as a change in policy that avoids vilifying alternative forms of accommodation.
There is a lack of formal support for people living in informal accommodation, particularly healthcare, food and sanitation – this needs to be overcome and the focus on having a fixed official address for access to non‐emergency healthcare needs to be altered.
EU funding should not only be focused at the state level. Doing so creates the dichotomy of 'good' formal housing and 'bad' informal housing and leads to implications for healthcare, access to amenities, and 'othering' of communities.
Image Mario Fornasari via Flickr (CC BY 2.0)