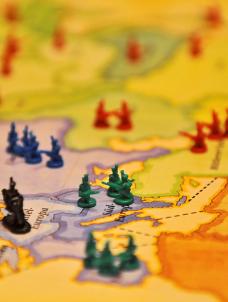 Location
Online (Zoom), 12.30-2.00pm GMT, Tuesday 27th October.
Speaker:
Professor Amrita Narlikar, President German Institute for Global and Area Studies, Professor at Universität Hamburg and Non Resident Senior Fellow, Observer Research Foundation.
Amidst the rich debate that is emerging around the phenomenon of Weaponized Interdependence (WI), attention has gone first and foremost towards identifying the manifestations of the phenomenon itself, and the mechanisms through which this weapon is wielded. The increased crossfire between the US and China in the last years – with detrimental economic consequences not only for each other but also the system at large – has meant that considerable academic analysis has gravitated towards these cases. In my lecture, I will turn to a different set of actors. I will investigate the players that are most likely to get squeezed in great power games, and how they are innovating, responding, and adapting to the opportunities and constraints posed by WI. I will demonstrate that far from being just victims in a redrawn great-power game, seemingly weaker countries also have considerable scope for agency. By covering new empirical ground on the strategies that the "rest" are using, my analysis also aims to add to theorizing on WI and further develop some policy-relevant insights.
Discussants:
Professor Anoush Ehteshami, Nasser al-Mohammad al-Sabah Chair in International Relations in the School of Government and International Affairs, Durham University.
Dr Eva-Maria Nag, Executive Editor of Global Policy Journal at Durham University.
Dr Alex Waterman, Research Fellow in Security, Terrorism & Insurgency at the University of Leeds.
Global Policy North Thesis Prize:
We are delighted to announce that the winner of this year's thesis prize is Dr Alex Waterman of the University of Leeds. Professor Narlikar will present the prize immediately prior to the lecture.
To join, please use this Zoom Link.
The essay, on which this lecture is based, is to be published in Daniel Drezner, Henry Farrell, and Abraham Newman (eds), The Uses and Misuses of Weaponized Interdependence. Washington DC: Brookings Institution, January 2021.
Image: Tambako The Jaguar via Flickr (CC BY-ND 2.0)