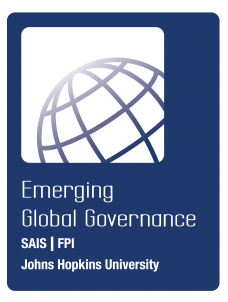 The Emerging Global Governance (EGG) Project is an initiative of the Foreign Policy Institute of the Johns Hopkins University's School of Advanced International Studies (SAIS) in collaboration with Global Policy.
The Project brings together leading scholars to profile new research on global policy, global governance, global public goods provision, and global risk management across the range of relevant sectors and issue-areas, including global economy and development, the biosphere, global security, global health, migration. The EGG Project highlights innovative global policy ideas and international governance solutions arising from the emerging world, and at the interface between emerging powers and non-state actors, and the established actors in the system.
The EGG project profiles new evidence-based research and analysis of distinguished thinkers. Their work is presented in a range of project outputs, including
the EGG Commentary Series covering "core issues", "new trends and patterns", and "emerging hot issues" in shorter essay pieces (or briefing memo length pieces for decision-makers);
journal article length pieces and journal special featured sections in Global Policy; and
book manuscripts
The goal is to bridge the ongoing gap in knowledge-sharing between the scholarly and policy communities. The project's outputs will be listed below.
Project Co-Directors: Gregory T. Chin and Carla P. Freeman
Coordinating Editor: Carlos Salazar
Essays
The Future of International Development Finance
The system of Multilateral Development Banks (MDBs) as it has developed since the Bretton Woods conference of 1944 has performed better than is usually recognized. Partly because of the Bretton Woods institutions and the activities of regional MDBs that have emerged since the late 1950s, global inequality as measured by national average p.c. income across countries, has declined for the last four to five decades. However, in recent years the trend toward convergence has stalled or reversed for the poorest countries, probably including India. Despite some earlier convergence of p.c. incomes, poverty, underdevelopment and excessive inequality remain serious problems in today's world. This EGG Essay explores the roles international development finance can play in addressing it.
New Pacific Alliances: Transforming Transpacific Relations
At a time when protectionism and isolationism are raising their ugly heads, the TPP11 conveyed a potent signal. In fact, the agreement was signed on the very day that U.S. President Donald Trump announced the imposition of U.S. tariffs on imports of steel and aluminum.  Eleven countries from three continents (Asia, Australasia and Latin America), both developed (Australia, Canada, Japan, New Zealand and Singapore) and developing (Brunei, Chile, Malaysia, Mexico and Peru), capitalist and socialist (Vietnam), banded together in the cause of liberalized commerce, globalization and a rules-based international trading order. These diverse nations are pushing for a more open trans-Pacific trading system at a time when the geo-economic axis is shifting from the North Atlantic to the Asia-Pacific, and the North Atlantic powers themselves are turning inward, under the spell of nativist and populist currents.  It is not farfetched to suggest that new Pacific alliances are emerging.
What is Next? …for World Order and Global Governance
In the scholarly world, the most influential scholarship in International Relations, International Organization and International Political Economy has largely reflected the proposition that "exogenous conditions" can be assumed to be stable and largely unchanging, and the chief intellectual goal has been mapping how the actors in the system would adapt to, and internalize, the established norms and rules. There was really no need to debate fundamentals or first principles. Or so it was thought. But as the world has entered a period of dynamic change, it is increasingly apparent that another perspective is required – one that can grapple seriously with both change and continuity.
Commentaries
Core Issues
Can China and India Collaborate in Global Governance?
Kishore Mahbubani explores the prospects of a joint Chinese-Indian defence of globalisation
Emerging Global Governance (EGG): An Economist's Perspective
Justin Lin and Wang Yan are the authors of the first commentary in the Emerging Global Governance (EGG) series. Their piece details the key shifts in the global economic landscape and comments on how the emergence of new institutions reflects the changing global economic reality.
The New Global Energy Governance
Ann Florini argues that agreements on climate and energy in 2015, and rapidly developing technologies, are creating opportunities that policymakers should seize.
Can Africa Truly Benefit from Global Economic Governance?
Garth le Pere explores Africa's ongoing climb out of a peripheral global position and how the international community can work with it.
New Trends & Patterns
Hong Kong, the AIIB, and the Evolving Geography of Finance: A World Financial Center in the Making?
Gregory T. Chin explores Hong Kong's lobbying for a special role in the AIIB and in the Belt & Road strategy, the number of visits by Asian state leaders, and corporate realignments across Asia.
Global Climate Action Amid Trump: Challenges…But Also Measured Optimism
Despite the worries, Kathryn Hochstetler finds room for transformative climate change action under newly elected President Trump.
Chinese Development Finance: A Convergence of Passions and Interests
Kevin P. Gallagher explores China's growing passion for green finance, south-south development cooperation, and global leadership.
Reshaping World Trade: The Export Finance of the Emerging Economies
Kristen Hopewell argues that export credit is proving to be a useful lens on both the challenges of multilateral cooperation amid contemporary power shifts, as well as the diminishing capacity of the US.
Emerging Hot Issues
How Can Global Economic Governance Be Improved?
Jim O'Neill from the Emerging Global Governance (EGG) Project outlines his thoughts for 2018.
Opening the Shrinking Global Space for Civil Society
Claudia Juech examines what is causing the shrinking space for civil society globally and what can be done about it?
Foundations 20 (F20): Non-Governmental Actors in Global Governance
Keith Porter explores the emergence of new groupings of international multi-stakeholder that are forcing the powers-that-be to acknowledge and act upon the wishes of real people.
The Maritime Silk Road Initiative (MSRI): Why India is Worried, What China Can Do
Amitendu Palit argues that the China-led Maritime Silk Road Initiative is causing ripples among Indian policymakers.