Steering Spaceship Earth: Can China chart a new course in a warming world?
Steering Spaceship Earth: Can China chart a new course in a warming world?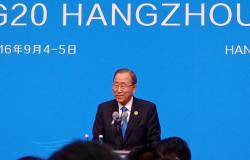 International Media Centre – G20 Hangzhou Summit. China's hosting of the G20 Leaders' Summit this year signals a new era of Chinese engagement with global leadership. In recent years, China has opened up its economy to foreign investment, and invested a number of its assets in foreign countries. China is warming towards the world, and the world is warming with it – but not in a good way.
Global temperatures have climbed by 0.7 degrees Celsius in the past century alone, a rate completely unprecedented when compared to previous warming rates from the past 800,000 years. Climate change is one of the biggest threats facing mankind and our long-term economy, and this was stressed by UN Secretary General Ban Ki-moon at today's press conference. It is an issue set to affect all countries – and China is no exception.
Yesterday, the USA and China both ratified the Paris Agreement, which aims to keep the rise in global temperature 'well below' 2 degrees Celsius, and ideally to 1.5 degrees Celsius. In order for the Paris Agreement to come into force, 55 countries accounting for 55% of global carbon emissions need to have ratified the agreement. Together, the USA and China account for almost 40% of global carbon emissions, which makes their ratification a big symbolic and potentially practical step towards the Paris Agreement meeting its enforcement quota. The fact that the two leading economies of the world have now signed the agreement also sets a good example for the rest of the unsigned G20 countries to follow through on their promises to ratify the agreement; but it is specifically China, as an emerging economy, that now needs to step up and take responsibility for climate action.
At today's press conference, Ban Ki-moon was asked how countries will be punished if they sign the Paris agreement and then do not fulfill their obligations. In reply, he stated that the perception that countries are making social and economic sacrifices by acting on climate change early are wrong, and that many long-term benefits are to be gained from early action. China does seemingly recognise this and Ban-Ki moon commended China for taking leadership on the issue.
Yet, where the G20 can really catalyse progress now is in making the right economic policy decisions to ease the transition to a low carbon economy, and include developing countries in this endeavor. China's invitation of countries such as Chad, Senegal, Laos, Kazakhstan and Thailand to this climate-focused summit is certainly a good step towards doing this.
Setting a new development trajectory is imperative to combatting climate change, and China has the chance to be the first to do that. China can show that it is possible to join economic growth with sustainability, and it has already set the tone for doing so through its inclusion of green finance as a key topic on the G20 summit agenda. If China charters a new course for development, it will not be doing the rest of the world a favour- it will be making an investment in its own future. For what is the point of a strong China on a sinking earth?

G20 Team: Garrett Wallace Brown, Hugo Dobson, Rishabh Kumar, Lu Yanrong, Evelyn Mantoiu, Jessica Peppiate, Melissa Pilgrim, Eleni Ravanis, Annemie Zimmerman – Global Leadership Initiative, University of Sheffield

Photo by Hugo Dobson