North Korea: US Unilateral Action or Deeper Sino-US cooperation?
North Korea: US Unilateral Action or Deeper Sino-US cooperation?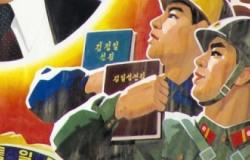 Alastair Newton argues that, although the military option against North Korea cannot be ruled out, it looks unlikely to be pursued by the US for now. Rather, more sanctions and, possibly, diplomacy appear to be the more immediate prospects.
An opening bid from the 'dealmaker-in-chief'?
How should we read US President Donald Trump's threat (in his interview with the Financial Times published on 3 April) of unilateral action if China won't bring more pressure to bear on North Korea to abandon its nuclear aspirations
Certainly, market participants in Asia in particular reacted nervously although it is not clear of the extent to which this was (a) simply headline-driven and/or (b) reflecting concern about a potential Sino-US 'trade war' rather than military intervention. But, whatever caused investor jitters, we should not conclude that Mr Trump is ready to order a military strike despite Secretary of State Rex Tillerson's recent statement that this option is on the table.
This is not to suggest that Mr Tillerson was being disingenuous. Indeed, he was correct in that military intervention has been weighed — and dismissed — repeatedly over many years; and that it remains one of several options in the policy paper currently under consideration. Furthermore, Mr Trump's influential head of strategy Stephen Bannon — who has publicly claimed that "there's no doubt" that the US will go to war with China within the next decade — may press for it to be used now. However, I think that, for the time being, the likes of Defence Secretary James Mattis and National Security Advisor H R McMaster will succeed in arguing against if the White House does give this serious consideration.
Thus, I concur with Dennis Wilder, formerly CIA, quoted in the FT, that secondary sanctions against "Chinese companies and individuals who deal with North Korea" are far more likely. This is also consistent with Mr Tillerson's later statement in Beijing that the more likely next step was "broad sanctions". This translates as secondary sanctions against individuals and banks — in both cases, significantly Chinese — doing business with North Korea. The aim of such would be to bring pressure to bear on Beijing to exert more leverage on Pyongyang to desist from its nuclear ambitions.
A challenge for Xi Jinping…
I tend to the view that China's influence over North Korea is limited, at least as long as Beijing is unwilling to countenance, for wider strategic reasons, anything which would risk regime collapse there.
However, especially in the run-up to the Communist Party's 19th Congress in October/November, President Xi Jinping certainly doesn't want any disruption to China's economy, which could weaken his prospects for securing the outcomes he is seeking. Furthermore, in the event of US sanctions aimed at China, he could not afford to be seen to be weak, more or less obliging him to retaliate even at the risk of escalation into a 'trade war'.
To try to head off these risks, Xi Jinping does have a couple of (non-mutually exclusive) options to bring to the table at Mar-a-Lago summit on 6/7 March, ie:
• Bringing in more Chinese measures against Pyongyang; and,
• Pressing to try diplomacy one more time, where he may recall that Mr Trump said during his election campaign that he would be prepared to sit down with Kim Jong-un ("over a burger"!) and do a deal. Appealing to Mr Trump's vanity as a dealmaker may just persuade him to give it a go, at least by appointing a special envoy to the Korean peninsula to explore the possible resumption of talks, including through the six-party process.
I expect he will propose both. But where things come down between the two leaders may depend on who Mr Trump has with him.
…and inside 'Team Trump'
It looks like Mr Trump's Senior Advisor Jared Kushner (on whom China has been working hard, as well as on his wife, Ivanka) and Director of the National Economic Council Gary Cohn have been given the lead on Asia generally in the White House. So I expect them both to be there — that is, ahead of Mr Bannon and Mr Trump's trade 'guru' Peter Navarro, who appear to be focused mainly on Europe right now (though I would be surprised if the former were not in attendance). Furthermore, I think Mr Tillerson will be present; possibly also Treasury Secretary Steve Mnuchin, whose department is currently working up a report on currency manipulation, due for publication this month.
If it is mainly the 'grown ups' plus Mr Kushner (and Ivanka) in the Trump entourage I don't expect anything imminently dangerous to emerge even if Mr Bannon is also present. But if Mr Navarro is there I would be more concerned as, at present, the Trump Administration seems far from settled on its Asia policy, suggesting that the President could still be very open to 'spur-of-the-moment' influence.
Is diplomacy worth one more go?
Although I do not personally see much prospect of Kim Jong-un being diverted through talks from his present trajectory, given the paucity of other options diplomacy is surely worth trying one more time. If nothing else, it would likely slow North Korea down, in that talks would presumably be conditional upon a freeze on missile and bomb testing — which I think Pyongyang would buy as it would hope (based on past experience) to pocket concessions.
It would also suit the probable next South Korean president, Moon Jae-in, whose party has always leant towards a 'velvet glove' with North Korea and who, following the 9 May general election, will want to try to defuse tensions with China over the deployment of the Thaad anti-missile system.
Equally, it would allow time for Beijing and Washington to weigh North Korea in the wider context of other bilateral issues such that compromises elsewhere could lead to a united and much tougher stance against Pyongyang.
All this being said — and assuming my caution about a genuine shift in Pyongyang is justified — the fundamental problem of North Korea's nuclear aspirations is likely to remain for now at least.
Although there is much in it with which I do agree, I was surprised that, in an FT article published last month, Gideon Rachman argued that as the world had learned to live with a nuclear-capable Pakistan we could learn to live with a nuclear-capable North Korea. Personally, I am not persuaded that this is a good comparison. And I am pretty sure that it won't wash with the Trump Administration, which may well conclude ultimately that a preemptive military strike would be preferable.
Alastair Newton is a former British diplomat and political analyst in the City of London who now runs his own Zambia-based consultancy, Alavan Business Advisory Limited — www.alavan.biz.
Photo credit: yeowatzup via Foter.com / CC BY