What can the West learn from Vietnam's Reopening?
What can the West learn from Vietnam's Reopening?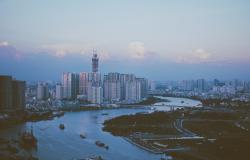 Ba-Linh Tran and Robyn Klingler-Vidra highlight lessons from Vietnam's currently successful easing of lockdown restrictions. 
Vietnam eased social distancing on April 23rd, so I (Ba-Linh) went to get my haircut and scheduled phở with friends and students. On the way, I was surprised how fast Saigon had sprung – differently than before – back to life. In the six weeks since my haircut, the focus of Vietnam has shifted from fending off the pandemic, which made headlines with fewer than 300 cases and no deaths so far, to the sustainable reopening of its economy and education. In this, the need to balance opening with staying vigilant has been central to every aspect of life.
The reopening has been deliberate and steady. The country has not seen an infection spike, all new cases have been repatriated Vietnamese; not residents, Vietnamese or foreigners. Life, however, is not back to normal but rather adapting to 'a new normal' that came with a myriad of questions. How to support businesses hit by the pandemic? What do we do if a student gets infected?
Four key themes underlie Vietnam's 'new normal' thus far, and we believe these themes offer lessons for all reopening countries in the weeks and months ahead.
1) Safety first: masks, thermometers and restricted entry
Reopening is accompanied by precautionary measures. The government continues to report new cases every day, all of which have been from repatriation flights rather than in-country. Many of the confirmed cases have been discharged, but the country is still fighting to save one critical patient, a 43 year-old British pilot; 26 Vietnamese have volunteered to donate their lungs for him. As of June 3rd, he was – finally – said to be on the path to recovery. At the grassroots level, people are encouraged to keep distancing, wearing masks and washing hands; quarantine and lockdown are neither off the table. Businesses are still providing hand sanitizers for customers (photos 1 & 2), and some take customers' body temperatures before entering; these measures are mandated for some forms of businesses. Vietnam is now open for repatriates, high-skilled foreign workers and diplomats, all of whom will be quarantined for 14 days upon entry.
Photos 1 & 2: From a big supermarket for household appliances, to a small, old Pho shop, Vietnamese businesses provide hand sanitisers for customers right at the entrance. Photos taken by author (Ba-Linh Tran)
2) The economy: revive, resist and accelerate
The 'new normal' also focuses on the economy. A set of policies and services (photo 3) have been established to support both businesses and citizens affected by the pandemic; these include, for example, business tax cut and deference, monthly allowance and employment protection for workers, and financial aid for poor households. The total support package amounts to $2.6 billion, and businesses and citizens can access governmental support via an online portal. In addition, there are concerning signs of hostile foreign (especially Chinese) takeovers of pandemic-hit businesses. By late April, foreign purchases of Vietnamese equities reached over $1b, a marked increase of 33% over the same quarter last year; Chinese investment alone increased by 38%. Given the rise, the Vietnam Chamber of Commerce and Industry has even suggested stopping any transaction of M&A nature. On the other hand, there have been talks about opportunities for Vietnam to become a FDI hub, considering advantages like the unique EU-Vietnam FTA and supply chains moving away from China. Indeed, excitement grew with the February announcement that Apple would be producing AirPods in Vietnam.
Photo 3: Local authorities in Saigon survey small, local businesses about the impact of Covid-19 on them. The survey covers operational details of a business during the pandemic and what it needs support with. Surveying is part of the Government's effort to support businesses' recovery. Photos taken by author (Ba-Linh Tran)
3) Education: free to teach, with caution
Education is a mainstay topic in Vietnam, with space being reserved for daily coverage in almost all news outlets. Vietnam was quick to close down all schools (and higher education institutions) in early February, and repeatedly postponed reopening until the 4th of May in the interest of safety. Such long closure now poses challenges for schools to achieve catch up with the national curriculum – substituting physical with online lessons during closedown proved largely ineffective. In response, compromises were made by the government in the amount of content taught and assessed, and schools were given agency to deliver the reduced content. Previously, school agency had been extremely limited. A bigger challenge is how to keep students safe in order to restart their learning. Notable compulsory measures for schools include checking students' temperature before entry, regular hand washing activities, and arranging different entry and exit times for different classes. In the event of a suspected infection, teachers must end classes immediately and the student in question will be immediately taken to a medical facility.
4) Politics: planning ahead
Vietnam is supposed to have new central and provincial leaders as of January 2021. Shelved during the pandemic, political activities have now quickly resumed, starting with a central meeting of the Vietnam Communist Party's decision-making body; we also observe a sense of urgency in many provinces to choose their own leaders. In the meeting, Covid-19 and its global fallout were taken into account, and it was stated that the context for forthcoming leaders is underpinned by international uncertainty, including potential complications stemming from Covid-19 itself.
What can we learn?
The themes underpinning Vietnam's initial reopening show that there is no silver bullet. Even in a country that was very effective in reducing community transmission rates, the reopening has been underscored by the need for planning, and for staging, when it comes to safety in reopening business and education. Politics also resumes. Before lifting lockdown, testing capacity was in place, the population was wearing masks, and businesses had put safety procedures in place (such as taking temperatures before customers enter). Now the issues turn to ensuring that the sense of continued awareness and diligence persists.  
Ba-Linh Tran is a Vietnamese researcher and consultant in higher education management. His clients include both Vietnamese universities and foreign universities in Vietnam, which he has consulted on a range of issues, including strategy making, research training and student recruitment. He also has experience working in lifelong learning and ESL/EFL. Ba-Linh holds a PhD in Education from the University of Bath in the UK; his thesis focuses on the role of non-strategists (e.g. deans, lecturers, students) in realising a university's strategies.
Robyn Klingler-Vidra is Senior Lecturer in Political Economy in the Department of International Development at King's College London, where she research focuses on innovation and venture capital policy in East Asia. She is the author of The Venture Capital State: The Silicon Valley Model in East Asia and co-authored a 2020 Nesta-UNDP study on Strategies for Supporting Inclusive Innovation: Insights from South-East Asia.
Photo by Louis PHDC from Pexels