Climate Crisis: The Urgent Need for Stronger Health Systems
Climate Crisis: The Urgent Need for Stronger Health Systems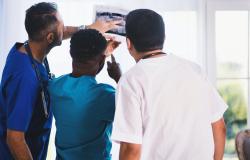 Cameron Boyle discusses the reciprocal relationship between climate change and health and the importance of building climate-resilient health systems.
Summer 2023 marked a nadir for planetary health. The oceans hit their hottest ever recorded temperature. The planet may have seen its hottest week ever. The UN secretary general described climate change as 'out of control', before adding that the era of 'global boiling' has arrived. So what does this mean for people and their health?
From climate-induced floods and heat waves causing rises in vector-borne disease, to wildfires leading to increased respiratory illness, the climate crisis is fuelling its own health emergency. And this is just the tip of the iceberg.
When these health impacts are felt, it is the health sector that responds. Yet how many of us are aware of global healthcare's own carbon footprint? Currently it contributes 4.4% of global net emissions. Were it a country, it would be the fifth largest polluter on earth.
If we are to overcome the crisis, health systems urgently need to change. Under the current trajectory, emissions from healthcare could triple between now and 2050. Greenhouse gas emissions are the most prominent way that health systems contribute to the climate crisis, and these emissions fall under three categories.
The first is emissions under the direct control of the healthcare facility (such as fleet vehicles). The second is electricity purchased by the facility, and the third, the majority (71%), comprises all other indirect emissions, such as those from supply chains. These include the production, transport and disposal of medications, food, medical devices and hospital equipment.
With the clock ticking, and climate-induced disasters increasing, the time to act is now. Before it is too late. Health systems are stuck in a vicious cycle. Emissions are taking a heavy toll on human health - from causing air pollution which harms lung function, to sea temperature rises which cause more water-related illnesses - increasing the pressure on the sector. This increased pressure in turn leads to increased emissions, through increased demand as well as inefficiencies (such as overprescribing, preventable medical errors and delivery of low-value care).
But it is not just carbon footprint that is the problem. Health systems must also be climate resilient; in other words, able to withstand the impacts of the crisis they are helping to create. At present, health systems - particularly those in lower and middle-income countries (LMICs) which are disproportionately impacted by climate change - are ill-equipped to provide health services when the impacts of climate change strike.
Root causes range from insufficient surveillance systems, preventing the early detection of climate-sensitive disease, to a lack of resilient health, water and transport infrastructure, leaving health systems vulnerable in the event of climate-induced disasters. According to analysis by the Lancet Countdown, 67% of global cities surveyed expect climate change to "seriously compromise their public health assets or infrastructure."
Health systems must be built and adapted with climate change in mind, so that people can access healthcare to their needs. Health systems must be able to anticipate, respond to and recover from climate-related shocks and stress. They must also be able to deliver care without contributing to climate change and environmental degradation.
To understand how to achieve this and the scale of the challenge faced, we spoke to organisations working at the intersection of climate change and global health.
The importance of research
Research is crucial. Claudia Selin Batz, Policy and Advocacy Advisor at The George Institute for Global Health, discussed the importance of taking a research-led approach to building climate-friendly health systems:
"It's vital that research on the intersections between the climate crisis and human health, as well as the best ways to implement effective, equitable healthcare systems, consider all people's needs."
From using real-time meteorological data to track climate change's impact on disease transmission, to researching interventions that support sustainable healthcare delivery, research must be at the heart of the solution.
Collective action
UNASCAD Haiti is an organisation working on the very frontlines of the climate crisis. Its director, Joseph Severe, discussed the scale of the challenge faced and how to find a solution:
"According to direct and indirect observers, climate change is not only an ecological problem, but also an existential threat to global security, and is becoming a multiplier of instability that is disrupting the way the planet functions. The ideal solution is for all stakeholders to be motivated and committed to tackling it on all fronts, from all angles and in all areas."
These words speak to the importance of collective and unified action. It cannot be that our health systems contribute to the very problem they seek to address. Governments must listen to the experts and map a collective blueprint to success.
Linking climate and health
A key step is to embed the climate response within all aspects of the health response. Malaria Consortium is an organisation leading the way:
"Malaria Consortium recognises that climate change has the potential to affect health and disease outcomes for people across the countries in which we work. As a result, we continuously strive to incorporate responses to climate-related risks into our programmes."
Going forward, this approach must be the norm if we are to adapt health systems for climate change. From strengthening the health workforce capacity to respond to climate change, to ensuring that investments in health infrastructure are carbon neutral, health action must double as climate action.
With every grim milestone reached, with every harrowing record broken, the need for action becomes ever more urgent. Our health systems are increasingly stretched due to the impacts of the climate crisis, yet are actively contributing to the crisis. This cannot continue.
We all have a part to play in calling for change, and our governments are responsible for enacting that change. The time to act is now. Our health systems must work for people and the planet.
Cameron Boyle is Digital Campaigns and Media Officer at Action for Global Health. He also volunteers for refugee rights organisations based in Greater Manchester. @CameronBoyle_95
Photo by EVG Kowalievska