COP27: An Underwhelming Global Climate Response
COP27: An Underwhelming Global Climate Response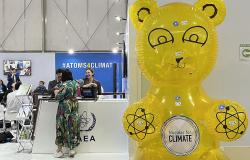 Danika Hotham reflects on her experience of COP27 and why, despite its many flaws, civil society must continue to make the annual journey to the summit.
The Conference
Upon arrival in Sharm el-Sheikh, I was struck by the sheer scale of this global climate conference. I knew it would be big, but this was something else. Thousands upon thousands of people each and every day piling into the electric buses put on by the Egyptian Presidency and swarming the endless maze that was the conference venue.
My first day was one of navigation, working out how to understand the clouded logic of the conference centre. The entrance is where neverending coffee and lunch queues exist as well as side event rooms where constituencies brief each day, and press conference rooms where messages, campaigns and decisions are shared with the public. Next comes the pavilions which are essentially a giant trade show. Here, countries, businesses, groups and organisations display their achievements (perhaps more accurately for most, their greenwashing), technologies, stories, and calls to action.
If you manage to find your way out of the countless pavilions, you find the delegation offices and eventually the plenaries and meeting rooms. In them negotiators spend their time working through the intricacies of each text on the agenda. Observers are able to access these areas if there is space, and if all parties agree to keep the discussion open. Any party at any time may close the space turning an informal negotiation into what is technically known as an "inf inf" or an "informal informal".
Tinkering around the edges when we need transformation
Inside the meeting rooms I hoped, perhaps naively, to find high-level systems change discussions. I was particularly interested in the Koronivia joint work on agriculture considering our current agricultural system, particularly industrial animal agriculture, is the leading cause of deforestation, and the food system as a whole is responsible for one third of global emissions. Additionally, the emissions gap report this year dedicated a chapter to transforming food systems, and the IPCC have underlined the mitigation potential of plant based diets and food systems.
Sadly, I found no such discussion. The negotiations largely consisted of underscoring why agriculture is an important topic to discuss at COP, agreeing on an agreement to talk about agriculture at COP, agreeing on how to talk about agriculture at COP and discussing an agricultural information sharing platform. While these are important steps, I feel we have long since lost the luxury of time to still be at this stage.
The environment or economics?
By day three I had heard three full days' worth of discussions and presentations, yet not a single word about the natural world, ecosystems, or any part of nature itself. Rather, I'd heard taglines about humans "creating the world we want to live in", sales pitches for decarbonisation technology, investment pitches for 'emerging carbon markets' and many iterations of the 'carbon neutrality' and 'net zero carbon' concept. Importantly, this concept is not the same as emissions reductions or a zero-carbon strategy. Instead, it involves any given country, company, or project drawing down or offsetting as much carbon as it emits.
All too often this results in little to no change in emissions, coupled with the purchasing of 'carbon offsets' or 'carbon credits' which may or may not represent actual emissions reductions. This kind of capitalist, neoliberal market strategy is deeply rooted in the idea that humans, and the economy we have created, are not only outside forces acting on the environment, but are superior forces with the power to shape and change the environment to serve human interests. More often than not, the carbon credits and offsets purchased are deeply harmful to indigenous peoples and local communities, and represent little to no actual real emissions reductions. Meanwhile, they successfully enable emitters to continue emitting in the absence of guilt.
This absence of guilt is something I thought a lot about during my time at COP27. The whole conference takes a phenomenal amount of organising, planning, resources and time. Thousands upon thousands of people work long hard hours in preparation, and during the conference itself. Consequently, many people are rightly exhausted. These people, groups, organisations, and/or countries thus gain a sense of accomplishment. A sense of working hard on environmental issues and combating the climate crisis.
Yet, my fear lies in what this conference actually accomplishes. Does it achieve enough to justify leaving many of these groups, organisations and countries feeling they have 'done their bit' when it comes to climate? Sadly, between the trade show of the pavilions, the emphasis on 'carbon neutral' strategies of carbon trading and offsetting, and the conference venues 6 types of segregated recycling that all ended up in the same bin, the reality of the conference felt much more performative than impactful.
Civil society
Critiques of COP came loud and clear on the ground from civil society. They championed listening to the land, the water, the forests and to indigenous peoples. They argued for the need to protect mother earth and told of the pain communities suffer when their forests burn or their waters become polluted. They also highlighted the need to challenge the patriarchal, colonial, capitalist systems that got us into this mess.
It is from this place that agenda points such as Loss and Damage emerged. This was a historic win at COP27 for civil society. The decision, which was finally reached in the early hours of the morning two days after the conference was due to officially conclude, establishes a financial mechanism by which countries currently experiencing climate impacts leading to loss and damage can receive funding from countries who are historically high emitters. Of course, who pays how much to whom is an issue for a future COP.
While this agenda point still centres finance and people, it does, at least, incorporate an element of justice. Of high emitters and western nations who led, or perhaps more accurately, forced, the world down this destructive path being to some degree accountable. Accountable for their actions, and for the immense harm these actions have imparted on those who are largely not contributors to the problem. This opens a door for considerations of justice in relation to the non-human world, and for discussions of 'giving back' not only to the people affected, but also to the natural world.
It does, however, strike me that even this 'historic win' centres on high emitting countries' obligation to throw money at the problem. Does this perpetuate existing systems of capitalism, colonisation and patriarchy? Does it also foster the low ambition and lack of action when it comes to reducing emissions by further obscuring the real issue at hand, the wellbeing of the earth itself and the increasing damage to land, water, air, and ecosystems?
Ultimately, my reflections from COP27 are as follows:
First, the desire from many in civil society to boycott this coca cola sponsored conference full of governments and businesses who emit masses of carbon travelling across the world to spend two weeks a year talking and talking while continually failing to act is more than valid.
Second, that the role of civil society and of observers at conferences such as this is crucial. It is a much needed counterbalance not only to the dominant western perspective that informs COP as an institution, but also to the 600 fossil fuel lobby delegates who sat in the meeting rooms at COP27.
Third, that the value of connecting and sharing stories, knowledge, problems and solutions on the ground is significant.
But finally, that the majority of those occupying the seats of power in this world are extraordinarily disconnected from nature and from the realities of climate change and ecological destruction. As a consequence, the COP process ultimately amounts to a drastically underwhelming global response to an absolutely existential global crisis.
Danika Hotham is a Master of International Relations student at Te Herenga Waka - Victoria University of Wellington. Originally from Aotearoa New Zealand, she is currently living in Meanjin (Brisbane) Australia on the lands of the Jugerra and Turrbal peoples. Her research centres on the impact of anthropocentric understandings of the world on environmental approaches, particularly New Zealand's implementation of the Paris Agreement, and exploring different conceptualisations of the relationship between humans and nature. She attended COP27 in Sharm el Sheikh from the 6th - 18th November 2022.