Cultural Value and UK Soft Power: Being Valuable to Others
Cultural Value and UK Soft Power: Being Valuable to Others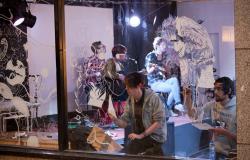 Ben O'Loughlin details new research showing how culture and language programmes can foster citizenship and social leadership in two societies facing conflict and transition.
The UK's share of relative hard power will decline in the coming decades. Nor can it compete with the vast sums being spent by China and the US on soft power. A long-term task facing those making UK foreign policy is to find ways to show the value of the UK to others in the world. Since the UK can't compete on scale, it must compete on quality and usefulness. This will enhance UK soft power. That soft power can then be leveraged to minimize the inevitable hard power losses. How, then, to demonstrate the value of the UK to others?
New research comparing the cultural relations of the British Council and Goethe Institute does exactly that. The team, of which I was a part, compared how the two organisations used culture and language programmes to foster citizenship and social leadership in two societies facing conflict and transition, Egypt and Ukraine. For citizens in Cairo or Alexandria, Kyiv or Kharkiv, why would they engage with a UK or German cultural organization? What aspects of their culture do they wish to bring to the table in return, and what counts to them as a genuinely productive engagement? If soft power is the power of attraction then, instead of counting how many museums there are in London or Berlin, wouldn't it be better to find out what others find attractive in you?
The context for this research is critical. We are in a moment in the evaluation of cultural relations in which many feel the pressure to measure 'impact' is having a distorting effect on cultural organisations. It becomes rational only to organise activities that will have measurable outcomes. The point about cultural relations is that its outcomes are diffuse, subtle, and unfold over lifetimes. Cultural institutions receiving funding from the UK government must provide a 'return on investment' (ROI), and demonstrate that a cultural relations programme will generate measurable shifts in the behaviour of target audiences. An organization like the British Council must show its activities lead to increased tourism to the UK, more university students from overseas, greater international media attention about the UK, and so on. Any social scientist will recognize the impossibility of proving that such behaviour was caused by taking an English language course or watching a British theatre production. Nor can ROI capture the feeling that cultural relations can generate for those involved in producing it or engaging with it – their sense of whether engagement is working. If policymakers can put ROI to one side and seek to move forward, what evaluation can do is showcase when cultural diplomacy is working well or badly and explain why.
This new research offered us a chance to listen closely to those experiencing these cultural activities on the ground in two conflicted societies. We would explore what different groups counted as valuable engagement. How did we do this and what did we find?
Cultural value from a range of perspectives
The project had two components. First, we conducted large surveys to map the cultural relations ecologies of Egypt and Ukraine. This illuminated a huge divide in Egypt between state-sponsored cultural activities and an independent sector, while in both countries the activities and funding offered by international cultural institutes was significant. We then moved from macro to micro, convening a series of workshops in Cairo and Kyiv to probe different perspectives on cultural value held by three groups: British Council and Goethe Institute strategists, their local staff who produce language and cultural activities, and users-cum-publics who engage with their activities. We presented them all with a set of values – participation, mutuality, opportunity, professionalism, quality and so on – and asked them to score the cultural programmes they'd experienced against those values. They then had to debate and rationalize their scores in dialogue with the other groups.
We found, first, that users valued cultural programmes that were locally-oriented and had very transparent terms of engagement. For instance, both the British Council and Goethe Institute invite applications for pilot grants for local projects. If citizens, artists or activists in a town or village have a good idea, the cultural institutes will help them kick off their enterprise. But if expectations are unclear – if the citizens expect follow-on funding after a year and this does not transpire – then all sides feel negatively. If communication is clear, however, then cultural institute staff can be responsive to genuine local needs rather than impose culture from the outside. We found evidence that this strengthened civil society and independent cultural sectors.
Second, we found cultural relations activities have the potential to build bridges across regional and generational divides but this is difficult and requires skilled mediation by local staff. In Ukraine, internally displaced people fleeing from Donbas in the East, for instance, can be given assistance to bring "their" culture into Central and Western Ukraine. However, even within Donbas there are generational divides about what counts as "good" cultural engagement. Those who came of age under Soviet culture evaluated cultural activities very differently to young artists who seek a post-Soviet identity. The Goethe Institute funded an interesting digital museum for these displaced people. Our workshop enabled a safe space for disputes about what artifacts should be displayed in the museum and thus what culture they value and wish to display to the rest of Ukraine and to the world.
Our cultural value workshops showed, third, that cultural relations is an uncertain encounter that elicits strong feelings. How the British Council and Goethe Institute strategists imagine their target publics is different to how their local staff perceive those publics, who they routinely work with and live next to. The workshops allowed all three groups to speak up. By forcing all three to assign scores to cultural relations programmes they'd experienced and then justify those scores to the other groups, aspirations from the European "core" met expectations on the neighbourhood "periphery". This enabled discussion of what is realistically achievable and what would be valuable to all three groups. This will allow British Council and Goethe Institute staff to use language in ways that does not over-inflate expectations.
This was far from a token performance of listening by the London and Munich policymakers. Discussions with some of the strategists since suggests that by gaining a greater appreciation of the values of their local staff and their target publics, they are able to take those views into account in the design of future programmes. Certainly, our exploration reveals some missed opportunities and unintended consequences. However, we also detected all participants found great symbolic value in the sheer effort being made by local staff and users to make cultural relations work.
It is not enough to say you stand for values
The workshops showed above all how quickly people see through claims by overseas cultural institutes to "stand for" values rhetorically while not practicing those values on the ground. This poisons any soft power potential – hypocrisy is not attractive. To be attractive in international relations is to be valuable to others for where they want to go and what they want to be. That entails attention to problems people face in their societies and what sorts of institutions and communities they want to sustain or build.
A great deal of policy debate about soft power focuses on the "power of values". Politicians proclaim to stand for democracy, rule of law or political freedom. To the extent that citizens in other societies think their country is lacking those values then to stand for those values is to offer a path forward. To institutionalise those values in a legal or political system provides a template for others. But our research showed that many citizens in Ukraine and Egypt did not recognise their societies to be deficient in values. They did not recognise themselves as "societies in transition" – "transition to what?" some asked. The problem was they lacked the resources, confidence or expertise to organise and institutionalise their existing values.
Brexit is sharpening debate in London about what the UK will stand for if and when it leaves the European Union. But to define those values, it must know what others want of it. The UK and its organisations must avoid over-promising or under-promising. They must avoid ignoring genuine desire for engagement while courting the uninterested. Research that illuminates what is valuable to others is essential. It shows what kind of country they want the UK to be. That does not imply the UK must rigidly fit those expectations. But it would at least be able to take those expectations into account.
Power shifts mean in the coming decades the greatest powers in the world order may not hold values held by UK leaders or citizenry or the UK's allies. But research about cultural value can get at their hopes and expectations. Using this, the UK can identify what it can do that is attractive to others and revitalise its soft power in new, useful and effective ways.
'The Cultural Value Project: Cultural Relations in Societies in Transition' was funded by the British Council and Goethe Institute and ran from January 2017 to June 2018. The project was led by Prof. Marie Gillespie at The Open University and partnered with the Hertie School of Governance in Berlin. The project website is here: http://www.open.ac.uk/researchprojects/diasporas/cvp
Ben O'Loughlin is Professor of International Relations and Co-Director of the New Political Communication Unit at Royal Holloway, University of London. Before joining Royal Holloway he completed a DPhil in Politics at the University of Oxford in 2005 and was a researcher on the ESRC New Security Challenges Programme. Ben's expertise is in the field of international political communication. He is Co-Editor of the Sage journal Media, War & Conflict, and since 2007 he has carried out a series of grant funded projects on media and security. This work is drawn together in the book War and Media: The Emergence of Diffused War (Cambridge: Polity, 2010), co-authored with Andrew Hoskins. Findings have been presented to the No. 10 Policy Unit, Home Office, Foreign and Commonwealth Office, OFCOM, the European Commission and European Broadcasting Union (EBU), as well as expert groups like the Global Futures Forum. Ben is the author of Television and Terror (2007, Palgrave, with Andrew Hoskins) and Radicalisation and Media: Terrorism and Connectivity in the New Media Ecology (2011, Routledge, with Akil N. Awan and Andrew Hoskins). In autumn 2012 he is Visiting Scholar at the Department of Government and International Relations at the University of Sydney.
Image credit: Sebastian Dooris via Flickr (CC0 1.0)