The G7 Media Centre: Big on Talk, Light on Substance?
The G7 Media Centre: Big on Talk, Light on Substance?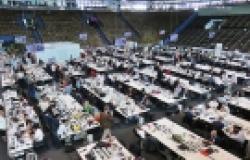 This post represents the third in a series from the ongoing G7 summit being covered on the ground by the Global Leadership Initiative's team. Please check in regularly to keep up to date with the latest news and analysis from the summit.
Media Centre – G7 Summit. The high number of journalists attending the G7 Summit requires a Media Centre the size of two Olympic ice sport stadiums. Our 6-members delegation sent from the Global Leadership Initiative (GLI), The University of Sheffield, is currently sitting at the end of one of approximately 100 tables organised in the olympic room.
Our team is beside the G7 Research Group and our two groups make up only 24 policy analysts in the room from a grand total of 3,000 journalists from more than 50 countries. It has surprised us to see such a clear 'shortage' of policy analysts that focus on conducting in-depth analysis and examination of G7 deliberations and their potential impact.
It is the function of the GLI to produce policy analysis throughout the G7 summit, which will be published in Global Policy. This stems from the belief that critical analysis of key global summits is necessary and valuable. It also stems from the belief that robust academic research can help to create better accountability in global governance and to ensure that global policy outcomes are reasonable, appropriate, and effective in achieving their aims.
We are conducting our work in two ways.
First, we are writing a series of live blogs (like this one) covering issues ranging from the impact of the G7 summit on the local economy to the likely elevated discussion around Ukraine, which also highlights the significance of Russia's 'suspension' from the G7.
Second, we are producing individual policy briefs covering six important policy areas related to global politics. These briefs will cover the implications of new G7 commitments to global health, the Sustainable Development Goals, Merkel's gender agenda, energy, security and more specific questions about whether Japanese Prime Minister Abe is, or is not, acting as a global leader.
Sitting in the press room with the noise of banging fingers on keyboards and the buzz of MH17 Gun-Ship helicopters whirring overhead, it is set to be a very interesting couple of days. This is especially the case since we seek to challenge the prevailing media-heavy culture, which seemingly only focuses on reporting 'what is happening?' rather than 'why it is happening' and 'what implications this may have for global politics?'.

The G7 team: Garrett Wallace Brown, Hugo Dobson, Mihaela Gruia, Dominik Hatiar, Lucy Pedrick and Greg Stiles – Global Leadership Initiative, University of Sheffield. For more information on the Global Leadership Initiative and to keep up to date please click here.