European Asylum Crisis: the politics of gridlock and magical thinking
European Asylum Crisis: the politics of gridlock and magical thinking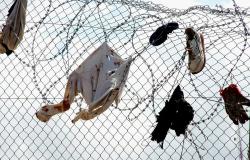 Landis Mackellar reviews recent events in the European asylum crisis and provides a forward-looking view to the autumn. He is pessimistic.
Continental Europe is slipping gratefully into the Sommerloch – the lazy second half of summer when the entire policy world takes a three week holiday and only lunatics show up for work much before ten. In Germany, Chancellor Angela Merkel of the conservative Christian Democratic Union (CDU) has won a degree of breathing room for her coalition government, a mini-denouement at best: it is far from clear how this crisis will end. And it will certainly still be here when we wake up in early September.
The convulsion began when Horst Seehofer, leader of the more right-leaning Christian Social Union (CSU), former Bavarian Minister-President and current Minister of the Interior, presented a 63-point "Master Plan" for managing immigration to Germany; 62 points of which were acceptable as a basis for discussions with Chancellor Angela Merkel's senior CDU and Andrea Nahles' junior Social Democratic Party (SPD) coalition partners. The devil was in the 63rd: Seehofer demanded that, as permitted by the letter of European law (the 2013 Dublin III Regulation), any asylum seeker in Germany who has already registered as an asylum seeker in another country (i.e., almost all) should be kicked back whence registered. Seehofer threatened that if Merkel did not accede, he would implement the new rule himself in his role as Minister of the Interior, which would have forced the Chancellor to sack him and brought down the fragile coalition government. Having done everything in his power to insult Merkel -- not least commenting that, since he made her Chancellor, if she tried to stop him he would take her down with him -- he backed off at the last minute to allow her to use the 28-29 June European Council meeting in Brussels to seek a European solution to the predicament.
Under Dublin III, asylum-seekers must register as an asylum seeker and deposit their application for refugee status (it is a two part process; a not-irrelevant detail ) in the first European country they enter. These days, the Balkan route having been effectively interdicted, most asylum seekers arrive in Italy and Greece. But none want to stay there. The goal is most often Germany, so the asylum seeker skips as soon as he (usually) can. In Germany, there await basic if often insalubrious housing, social services, and a modest stipend in the form of cash and vouchers while his case is adjudicated. The chances of actually obtaining refugee status are nil for almost all applicants, but the process of being turned down can take months; besides, when the appeals run out, you can always go to ground. Under Dublin III, Germany has always had the right to request the return of asylum seekers registered elsewhere, but in a 2015 fit of generosity, it voluntarily suspended the practice. Seehofer's Master Plan proposed to bring it back.
Europe is splintered into three camps. First, the major European powers, Germany and France in the lead, who cling to the traditional order in hope of merely tinkering with it. Second, the geographically challenged frontline states, Greece and Italy, reeling from fiscal austerity imposed (admittedly as a result of their own improvidence) by Germany via its Brussels proxy. Seehofer's Master Plan -- which would have forced them to resume responsibility for asylum seekers that they had gratefully waved over the border -- was insult following injury. Third, the pesky Visegrad new Member States, Poland, Hungary, Czech Republic, and Slovakia (with Austria threatening to join) where nationalism and resentment of Brussels's diktat run deep. With this three-way fracture, the odds to reach an effective European consensus – which would certainly require a shared-responsibility asylum seeker allotment scheme of the type that has failed to date – in Brussels were slim.
The meeting did not disappoint expectations: leaders emerged from all-night negotiations with a plan that satisfied no one. The key result is that European Union (EU) money will fund improved reception and application processing centers in those Member States that volunteer to host them (never, in Brussels, was there a problem so bad that throwing more money at it made it any worse). And note the word "volunteer" – Visegrad states, take comfort; you can maintain your defiant stance while continuing to benefit from European largesse in the form of cohesion funds.
The Council meeting ended on a Friday; after an hour and a half with Angela Merkel on the Sunday, Seehofer declared the fruits of the Brussels summit to be worthless. The crisis was back on full boil. But subtle signs emerged that Seehofer wanted out of the game of chicken he had initiated. Why he started it is clear – as confirmed by September 2017 federal elections and more recent opinion polls, the CSU has lost ground in Bavaria, a former CSU concession, while the tan- to light-brown Alternativ für Deutschland (AfD) upstart has surged. Seehofer cannot have forgotten the edict of his legendary predecessor Franz-Josef Strauss: The CSU must never allow itself to be outflanked on the right by a republican party. Less clear is why Seehofer wilted after Brussels. But this must have been something to do with the fact that the most recent (end-June) national polls show Merkel solid as a rock at a 48 percent approval rating while he has plummeted 16 percentage points to a mere 27 percent. That cannot auger well for the CSU in the Bavarian October 2018 state elections. And it points to two paradoxes. Pandering to Bavaria costs the CSU votes elsewhere, especially among young conservatives, a long-term issue for the ageing CSU. Second, and much more in the Bavarian headlights, Seehofer's fueling of popular resentment may actually be driving CSU voters to the AfD.
His bluster gone, Seehofer entered into crisis talks with Merkel that -- greatly facilitated by the SPD, which appears to have found its legs again -- resulted on 6 July in a deal that purports to offer a way forward. Asylum seekers attempting to cross from Austria (usually) into Germany, if they are determined via the EU's EURODAC fingerprint system to have submitted an application for asylum in another Member State, will be held in transit centers close to the Austrian border. (The SPD does not like the term "transit centers"; too close to "internment centers" for comfort, so the final agreement only refers to a vague "transit process.") They will, according to the agreement, be returned to the country where they applied for asylum within 48 hours.
But the problem is that, for that to happen, there has to be a return agreement with that country. In the absence of such a bilateral agreement, European law gives countries such as Italy two months to reply to a request to re-accept an asylum seeker. Greece has indicated willingness to come to such an agreement, largely because it sees money in it, but Italy, the far more important source country, has not. So, 48 hours is out the window and the term "internment center" seems appropriate until a better one shows up.
The agreement calls for rejected entrants who cannot be sent back to the country where they registered to be sent to Austria "subject to an agreement." That was an impudent flutter: no such agreement exists and a humiliated Seehofer was forced to backtrack in Vienna by declaring that no one for whom Austria was not legally responsible would be returned there. In a deft twist of the knife, Austrian Chancellor Sebastian Kurz threatened that, if Germany began to dump its illegals in Austria, Austria would respond by closing its border with Italy, leading one German commentator to predict, in the event, southbound Autobahn traffic backed up to Nuremberg.
The new, putatively long-term, Seehofer-Kurz game plan is to close the Southern Route altogether, to which end interior ministers from Germany, Austria, Italy, and Greece will shortly meet in Innsbruck. And, under the upcoming Austrian EU Presidency, the idea of sorting out asylum seekers in North Africa before they reach European shores will be vigorously debated. Politicians love it, the United Nations High Commission for Refugees (UNHCR) and International Organization for Migration (IOM) condemn it, and the countries of the Mahgreb are in high dudgeon while waiting to learn what might be in it for them. We will see. In Brussels, the long-term solution is seen to be using development aid through the Africa Emergency Trust Fund and other external financing instruments to attack the "root causes of migration," despite overwhelming research evidence that, if anything, development aid increases migration.
Tough international negotiations aside, it would seem within human competence to figure out a way to efficiently and equitably dispose of people illegally trying to enter Germany. A contextual point too often ignored: the inflow of asylum seekers to Europe is way, way down since its 2015 peak. In fact, it is manageable in technical terms – attenuate any assumption that Italy and Greece lack European resources to deal with the situation with recognition that they have every incentive to rid themselves of this nuisance population, which does not wish to stay in the first place.
The real problem is that Germany's trouble is not the flow, or shall we these days say dribble, it is the stock; the persons that are already there, for months if not for years. Nor are asylum seekers the only population concerned. There are (admittedly few) persons who obtained refugee status elsewhere but decided to (illegally) move to Germany. There are (many more) persons who registered outside Germany, but never deposited an asylum application there – remember, they never intended to stay in the first place. How many people are we talking about? According to the Süddeutsche Zeitung of 7/8 July, far more than those trying to get into Germany. The Federal Police (Bundepolizei) estimates that of 18,000 illegals picked up in the first five months of this year, only 5,000 were caught at the Austrian border.
A fundamental question is just how aggressive the Interior Ministry aims to be. Immigration raids, kicking down doors, raiding support centers, etc. is so Trumpian. The leather coat Ausweis! routine, thumb rubbing the first two fingers in that universally understood gesture, is so retro, and does not inspire pleasant memories in Germany.
It is clear that, as could have been (and was) predicted, German benevolence has given way to annoyance and Merkel's Willkommenkultur has lost ground to Raus! Overall statistics on entering the labor market, schooling, learning German, etc. are about as would be expected in a tough situation, as is overall acceptance of the newcomers. But it is not overall statistics, which reflect the behavior of the average asylum seeker and the attitude of the average citizen, that drive German asylum politics now; it is the outliers. Crime is the best example. It is down overall (contra Trump). In "hot spots" where asylum seekers have accounted for a disproportionate share of a local or regional increase in crime, most of the victims belonged to the same group themselves. But rape-murders of German girls-next-door in Freiburg, Kandel, and Wiesbaden, in all of which young male asylum seekers are charged, have been splashed over the front photo-pages of Bild (Germany's most widely-read newspaper) and every other popular media outlet. Making the situation worse, in a society that prizes security and Ordnung, is accumulating evidence of official incapacity to deal with the situation. The mass sexual assaults on Silvesternacht 2015-2016 in Cologne's Cathedral Square could have been avoided had the Bundespolizei taken initial 911 calls seriously. Most recently, the Bundespolizei, responsible for airport passport control, made a fool of itself by allowing the alleged Wiesbaden murderer to flee to Iraq with five family members on false identity papers which did not even match the names on the airline tickets (he was quickly arrested there and extradited). Nor is it only the police that raise concerns. Evidence has been accumulating for months that incompetence – and perhaps, according to conspiracy buffs, even collusion -- on the part of the combined German security and intelligence forces permitted a handful of stoners styling themselves the National Socialist Underground or Nationalsozialistiche Untergrund to implement a murderous reign of terror against immigrants that ended only with their suicide in 2011. A cash for refugee-status scandal in the Bremen office of the Federal Office for Migration and Refugees (Bundesamt für Migration und Flüchtlinge) has weakened confidence among both Germans and asylum seekers that the process is fair or even capable of weeding out extremists.
Neither the German nor European situation gives cause for optimism. Underneath the veneer of the coalition agreement in the first lies the politics of resentment and apprehension. At the European level, we have the politics of gridlock and magical thinking. Enjoy the Sommerloch while it lasts, because the September return will not be for the fainthearted.
Landis MacKellar is Senior Research Associate at the Population Council (www.popcouncil.org) and editor of Population and Development Review. The views expressed here are his own.
Image credit: Eagle-Wings via Flickr Public Domain Mark 1.0