India Steps Up to Strengthen Maternal Health and Achieve SDG 3
India Steps Up to Strengthen Maternal Health and Achieve SDG 3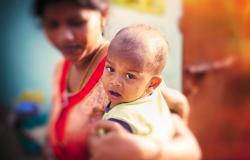 Madhu Raghavendra and Amiya Kumar Das highlight that India is strengthening its maternal health governance through comprehensive national programmes that address health and social inequities to achieve its Sustainable Development Goals.
Under-nutrition continues to adversely affect majority of women in India. An undernourished mother almost inevitably gives birth to a low birth weight baby. Poor nutrition starts in-utero and extends throughout the life cycle since the changes are largely irreversible. Owing to economic and social distress many women continue to work to earn a living for their family right up to the last days of their pregnancy. Anaemia, which is one of the most common conditions among Indian women, can result in maternal mortality, weakness, diminished physical and mental capacity, increased morbidity from infectious diseases, perinatal mortality, premature delivery, low birth weight, and (in children) impaired cognitive performance, motor development, and scholastic achievement.
According to the WHO, India has made considerable progress in recent years in reducing the maternal mortality ratio (MMR) by 77%, from 556 per 100 000 live births in 1990 to 130 per 100 000 live births in 2016. India's present MMR is below the Millennium Development Goal (MDG) target and puts the country on track to achieve the Sustainable Development Goal (SDG) target of an MMR below 70 by 2030. (WHO-SEARO, 2018)
In the past, one of the key challenges India has faced in attempting to improve maternal health is the absence of inter-ministerial coordination and inadequate convergence between allied departments that address the physical, social, and economic wellbeing of women. The lack of willingness to converge for implementing respective national programmes by the Ministries of Health, Social Welfare, Women and Child, and Rural Development to cater to the same cohort of women beneficiaries at the community level has had poor maternal health outcomes. Currently, the government is laying emphasis on improving the convergence of relevant ministries and accordingly devising national programmes for better maternal health outcomes. To strengthen maternal health, increased programmes and resources are being allocated to improving health of adolescent girls as per the lifecycle approach.
The Ministry of Health and Family Welfare delivers iron and folic acid, immunization, calcium and deworming tablets, bed nets (in malaria-prone areas), counselling to pregnant women as part of antenatal care services on monthly outreach and safe institutional delivery services. The Ministry of Women and Child Development has made provisions for supplementary food as micronutrient-fortified food and/or energy dense take home ration for pregnant women and breastfeeding mothers. In the past the nutrition strategy was food centric, eventually the relevant Ministries of Health and Women and Child Development have turned their focus on improving the nutritional aspects of maternal nutrition. These efforts have gained even more momentum through the advent of national mission with budgetary commitments.
There are many programmes being implemented by the Central and the State government that are resulting in better maternal health outcomes. Some of the key programmes are the Janani Surakha Yojna, Pradhan Mantri Matru Vandana Yojana, Village Health and Nutrition Days, Janani Shishu Suraksha Karyakaram, Wage Compensation scheme for pregnant women (in some states), Weekly Iron Folic acid Supplementation, and Poshan Abhiyan.
The Prime Minister's overarching scheme for holistic nutrition, Poshan Abhiyaan, launched in 2018 is a multi-ministerial convergence mission with the vision to ensure attainment of malnutrition free India by 2022. The first phase has been implemented in 315 districts by the Ministry of Women and Child Development, and aims to ensure holistic development and adequate nutrition for pregnant women, mothers and children. This provides an inherent platform for convergence among Ministries/Departments as well as schemes and programmes.
The Janani Suraksha Yojana is a safe motherhood programme that provides cash assistance for delivery and post-delivery care under the National Health Mission that aims to reduce maternal and neo-natal mortality by promoting institutional delivery among the poor pregnant women.
The Pradhan Mantri Matru Vandana Yojana is a maternity benefit programme is implemented in all the districts of the country that provides a cash incentive for pregnant women and lactating mothers as partial wage compensation to women for wage-loss during childbirth and childcare and to provide conditions for safe delivery and good nutrition and feeding practices.
The Janani Shishu Suraksha Karyakaram has benefitted over twelve million pregnant women to obtain free and cashless services to pregnant women including normal deliveries, caesarean operations, and sick new-born (up to 30 days after birth) in Government health institutions in both rural & urban areas. Considering the fact that increase in institutional deliveries has not resulted into commensurate improvements in the key maternal and new-born health indicators, the Ministry of Health has recently launched the Labour Room Quality Improvement Initiative that aims at improving quality of care in labour room and maternity operation theatre. The nation-wide implementation of these enthusiastic policies needs to be monitored. The Weekly Iron and Folic Acid Supplementation programme aims to reduce the prevalence and incidence of anaemia amongst adolescent girls. This is an imperative programme considering early marriages are common in India. The logistics and availability of iron and folic acid tablets needs to be ensured at the grassroots for effective implementation.
The Rashtriya Kishor Swasthya Karyakram aims to cater to the health needs of in and out-of-school adolescents with focus on their improving their sexual and reproductive health. The key drivers of the programme are community based interventions like outreach by counsellors, facility based counselling, social and behaviour change communication and strengthening of adolescent friendly health clinics. At the village level, the Village Health and Nutrition Days are organized to create awareness among the pregnant women, lactating mothers and children and to encourage them for antenatal check-ups, institutional deliveries, good breastfeeding practices, family planning, immunization, menstrual hygiene etc. with an objective to achieve better maternal and child health.
The above programmes not only strengthen maternal healthcare but also reduce the out of pocket expenses of the poor to receive healthcare. The challenge in implementing the programmes is reaching out to all the potential beneficiaries. At the community level there is lack of awareness regarding the maternal health services being provided, and inadequate knowledge regarding how to access the schemes. Newer methods of community outreach are being explored such as women self-help groups. The Government of India's National Rural Livelihoods Mission (NRLM) is one of the world's largest initiatives to improve the livelihoods of poor rural women and boost the rural economy. Currently there are over 5.5 million functional women self-help groups in India at the village level that mobilize economic, health, and nutritional services. Although these SHGs are engaged in various livelihood and social activities, there is an opportunity for strengthening the outreach of maternal health programmes among the SHG members.
There is a need for improving maternal nutrition under new schemes such as Poshan Abhiyan as it will help reduce the incidence and prevalence of stunting and low birth weight among children. Innovative communication strategies such as street theatre and folklore may improve knowledge levels among the beneficiaries and generate demand for health system nutrition interventions. The regional inequities with regard to maternal health need to be addressed through improved surveillance and monitoring systems to enable evidence based policy making, and efficient allocation of resources. In order to attain the Sustainable Development Goals for maternal health, the Government needs to raise awareness of women regarding their social entitlements.
Madhu Raghavendra is an independent social development practitioner. Amiya Kumar Das is an Assistant Professor at the Department of Sociology, Tezpur University in India.
Image credit: Nithi Anand via Flickr (CC BY 2.0)