Responsible Development in Nigeria: Addressing Environmental and Social Damage
Responsible Development in Nigeria: Addressing Environmental and Social Damage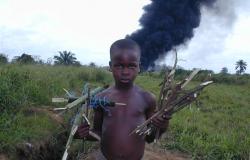 Writing for Global Policy Next Generation, Nma Chinaza Agada analyses the roles that cross-sectoral environmental, social and governance laws can play in tackling institutional causes of environmental degradation and social disintegration in Nigeria.
In the Niger-Delta of Nigeria, the colour is black.  Soot displaces mists.  Crude oil spreads like a blanket over waters. The colour red is prominent, too.  Bloodshed accompanies the insecurity, crime and conflict that ravage the region. These, in spite of a large Gross Domestic Product (GDP), are some of the legacies of the oil and gas sector in Nigeria.
The oil and gas industry is not the sole culprit causing environmental and social damage. The private sector in general fails to serve as a catalyst for responsible development. Environmental, social and governance of the Nigerian private sector is weak at best, leaving in its wake a host of terrible mishaps. There is a need to enact a cross-sectoral environmental, social and governance (ESG) Act to regulate the impact of private sector activities on the environment, the people and the social structures that uphold their lives.
Business concerns not only cause pollution and deplete ecosystems ; they significantly contribute to the many sociopolitical conflicts in Nigeria today. The militancy and violent crimes in the South-South, a geopolitical region of Nigeria, can be linked to physical and economic displacements, loss of livelihoods and rising inequality left in the wake of oil and gas exploration. The Fulani herdsmen attacks in the middle-belt and southern regions have intensified, with more nomadic pastoralists killing farmers in order to gain access to their lands for pasture. This crisis has correlations with desertification, poor livelihoods planning, ineffective land tenure systems and weak mechanisms for governing indigenous peoples. In a nation where the private sector impacts the majority of livelihoods through employment, supply chain mechanisms, and economic displacements, we cannot underestimate its impact on sociopolitical affairs.
A prime reason for cross-sectoral laws to regulate social and environmental impact is to create      standards. Environmental and social performance standards will prevent siloed efforts and haphazard outcomes across sectors that make it difficult to establish best practices within the Nigerian context. The financial sector in Nigeria is arguably advancing in the integration of sustainability concerns into its operations – and that is good. But while the Nigerian Sustainability Banking Principles and the emergence of impact investing are propelling responsible corporate behavior, are they sufficient to deliver nation-wide, cross-sectoral and inclusive environmental and social development? How about the extractive industries on which the economy so heavily relies? Or the transport and logistics industry on which 180 million people rely every day?  Nigeria needs a system that creates standards for benchmarking, data analytics, and both cross-sectoral and sector-specific impact measurement.
Secondly, the country needs to combat institutional triggers of insecurity and conflict. Some see corruption, tribalism, and religious tensions as the underlying causes of insecurity and conflict in Nigeria. Yet business decisions, especially by large private sector actors, change the dynamics of availability, access to, and control of resources. In a multiethnic, multireligious, populous country like Nigeria, these decisions may result in tensions that can escalate already present conflict. There is the need to thoroughly assess how business concerns impact livelihoods, local politics and social cohesion at grassroot levels, and establish measures that minimize negative impacts.
Thirdly, cross-sectoral ESG laws will enable the country to optimize other benefits of foreign direct investments beyond short-term profits. Effective implementation of ESG policies expands the spectrum of returns on investment to include people and planet-focused bottom lines – livelihoods, ecosystems, cultural heritage and resource efficiency. Trade, technology and markets are accelerating the speed, spread and magnitude of these impacts. The country faces a growing youth population, a demand for economic diversification and the advent of the African Continental Free Trade Agreement. Are we prepared for the imminent expansion in private sector investments and their ripple effects? Indeed, there is a need for standardized environmental and social performance management to ensure that foreign investors do not prioritize profits at the expense of local environmental, political and social systems.
Private sector actors may incur some additional upfront costs in order to establish processes and systems that comply with ESG laws. For instance, a refinery may incur higher initial costs to design and implement effective resettlement and livelihoods restoration plans before operationalization.   Not establishing functional ESG systems costs far more, in terms of adverse environmental, social and governance impacts. Organizations themselves can incur heavy reputational losses and financial costs from such impacts. The essence of a foolproof regulatory framework is not to establish a tick-box approach to policy and compliance. The essence is to establish a regulatory threshold that fosters a more robust, principle-based policy framework, accounting for global best practices and local contexts.
Today, more than ever, Nigeria is in need of strong institutions – institutions whose core functions will catalyze sustainable progress in environmental protection and the harmonization of sociopolitical realities with economic growth. We are on the hinges of change. We must swing in the right direction where profit and wider societal imperatives can thrive together.  We want to move from the colours black and red to the colours green and white, the colours of Nigeria's flag, the colours representing our natural wealth and peace.
Nma Chinaza Agada is an international development practitioner and graduate student of International Development Studies at The George Washington University, USA. Her areas of focus are private sector-led development, policy, and gender, with a regional concentration on Sub-Saharan Africa.
Image: Photo RNW.org via Flickr (CC BY-ND 2.0)