The Coronavirus Reaffirms the Importance of Sustainable Development in Mining
The Coronavirus Reaffirms the Importance of Sustainable Development in Mining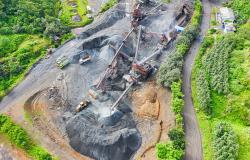 Jordy Lee and Morgan Bazilian explain why disruptions from COVID 19 can have larger implications for developing nations that are dependent on the mining industry. Without an overt focus on sustainable development, many counties will continue to suffer from market fluctuations and price volatility.
The mining industry, like many others, has been significantly disrupted by the COVID-19 pandemic, such as through new border restrictions, mine closures, and decreased demand. For developing economies reliant on the extractive industry, falling commodity prices and halted growth have already begun to negatively affect their economies. Continuing to work towards sustainable development can help these communities and industries become better prepared to future drastic market shifts. Now is the time to rebuild with a focus on resilience.
ICMM's 2018 Mining Contribution Index (MCI) shows that most of the world's mining dependent countries (those with a high percentage of their GDP coming from the mining sector) have struggled to find secondary drivers for economic activity, even before damages to the global supply chains. In these same countries, the Natural Resource Governance Institute (NRGI) rated 21/25 governments as weak, poor, or failing, while the World Bank's Worldwide Governance Indicators show them with an aggregate score of less than 50%.
Because countries with weak or poor governance are less likely to craft or adopt policies that can benefit citizens and communities in the long term, they are among the least prepared for the effects of a global pandemic.
Two countries highlight these issues clearly—Suriname and the Democratic Republic of Congo (DRC).
Suriname
Suriname, a resource rich nation in South America, is the country whose economy is most dependent on the mining industry as of 2018. ICMM's report shows that 33% of the nation's GDP comes from metallic mineral and coal production alone.
As of March 14th, Suriname's borders and airports have closed, and the country is already struggling to adapt. The drop in prices for Suriname's two main export commodities has left it without enough currency to pay off debts and import basic goods: leaving ATMs and supermarkets empty.
Iamgold's Rosebel mine in Northeast Suriname remains open, but it is not clear for how long. With a 95% ownership, Iamgold has already moved towards self-confinement, and has plans to adapt further if necessary.
In the midst of this economic struggle, the government under former military dictator, and convicted murderer, Dési Bouterse has increased its control. To stop capital flight ahead of a vote this May, the President has imposed strict restrictions on foreign currency transactions, making black market exchanges punishable by up to three years in prison.
These changes are occurring in the face of protests by the Association of Surinamese Industry and the Association of Surinamese Manufacturers, who cite failings of similar restrictions in nearby Venezuela.
Without diversified development, the nation had experienced a 38% decrease in GDP between 2016-2018, despite a doubling of mineral production value over the same period. Now, due to closures and related problems, the nation is one of the worst positioned to handle the public health and economic impacts of COVID-19.
Democratic Republic of Congo
The Democratic Republic of Congo (DRC) is among the top 20 global mineral producers by value, but is also one of the poorest and most susceptible nations in Africa. The World Bank estimates that 73% of the country lives in extreme poverty, placing it ahead of only Nigeria in the sub-Saharan region.
Earlier this week, DRC President Félix Tshisekedi imposed a state of emergency and closed the nation's borders in response to COVID-19. Similarly, the governor of Haut-Katanga province, Jacques Kyabula, issued a lockdown order after two people were thought to have tested positive in the region.
As an active mining area, the southern part of the DRC accounts for nearly all of Congo's output of cobalt and copper. And while the implications of these shutdowns and price shifts are hard to quantify, they can only serve to further destabilize the struggling communities.
Reports of the Congolese mining by hand in hazardous conditions are numerous and well publicized, but also serve to highlight the struggles of hundreds of thousands in the region, even without a global pandemic.
While actual counts are hard to verify, a publication by The Guardian estimated 255,000 "creuseurs" (diggers) in the DRC, 35,000 of which were children. More recently, the Financial Times reported 150,000 informal miners in Kolwezi (city), with Katanga Mining Ltd. also reporting that thousands would flood onto their property every day to mine illegally.
Without mining middlemen to sell ore to, or employment from larger operations, hundreds of thousands of individuals, families, and communities will have to find another way to live.
Sustainable Development
For many parts of the world, the extractive industries can serve to help strengthen and protect developing economies. Reports by Delve and the Intergovernmental Forum show that small-scale mining employs roughly 40 million worldwide, which is up from 30 million in 2014, 13 million in 1999, and 6 million in 1993. From this, nearly 150 million people depend on small-scale mining across 80 countries in the global south. When including the millions working in large-scale mining, all the surrounding communities, and the entire countries economically dependent on the mining industry, the potential influence is enormous.
The International Council of Mining and Metals (ICMM), a consortium of 27 of the world's largest mining and metals companies, consistently endorses sustainable development by their members. They provide recommendations on "minimizing negative impacts", "maximizing positive contributions", and specific case studies for how mining companies can help communities in the long term. To facilitate economic growth, the ICMM recommends investing in the "capacity of host communities to become economically productive beyond the mine life". To reduce poverty, they recommend the disclosure of "payments to governments in an open and transparent manner". To ensure quality education, they recommend to "invest locally in training for livelihoods beyond mining".
Academic investigations have also found that a company's active awareness of sustainable development led to positive changes in remote and poor areas, but also that mining companies could do more. The research found that the mining industry contributed to the generation of jobs and income, as well as improvements to the community's infrastructure, but often failed to facilitate education or properly disclose data. Additionally, without environmental restoration of the area, the companies compromised food security, climate action, and terrestrial ecosystems.
The difficult parts of these positive developments are not their feasibility, but getting countries and companies to invest beyond immediate gratification and into communities. It has become clear that environmental, social, and governance (ESG) concerns can have long-term impacts on the industry as a whole, and not being aware of these can have negative consequences. Non-governmental organization (NGOs), industry leaders, and financial institutions have started to drive positive change through their demands, but larger change will not happen without the all parts of the supply chain. It is important that mining companies start holding themselves accountable. Without this self-regulation and change of practices, stakeholder pressures can start to make changes for them.
In the end, countries that produce billions in natural resources should not run out of food in a matter of days. Miners who were already working in hazardous conditions should have the ability to feed their families or find alternative work. Mining companies or governments should not profit without providing people with the tools to expand and elevate their community. Whether this is through providing basic education, a focus on infrastructure, or general equality goals, sustainable development needs to be fully and thoughtfully incorporated into country and company policies and their implementation.
Morgan Bazilian is the Director of the Payne Institute and a Professor of public policy at the Colorado School of Mines. Previously, he was lead energy specialist at the World Bank. He has over two decades of experience in the energy sector and is regarded as a leading expert in international affairs, policy and investment.
Jordy Lee is a research associate at the Payne Institute for Public Policy at the Colorado School of Mines. He is currently aiding to develop public policy initiatives on the materials of the energy transition and the future of oil & gas. He also represents School of Mines in the development of a carbon accounting framework for the mining industry through an industry led consortium.