New ORF/GP E-book - Pathways to Equality: Advancing Gender Goals in the G20
New ORF/GP E-book - Pathways to Equality: Advancing Gender Goals in the G20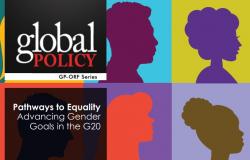 It has been over a decade since the first G20 Summit was held in Washington DC. While much progress has been made on key global issues, gender inequality remains a significant concern in many countries. Women face unequal access to education, employment opportunities, healthcare services, and legal rights. Additionally, in many countries, women are often denied basic human rights such as the right to vote or participate in public life. As a result, there is an ever-widening gender gap between men and women across all areas of life.
Recent initiatives in the G20 countries have shown that governments are willing to act against this injustice and make strides towards addressing gender inequality. At the same time, there are still areas where more needs to be done to ensure gender equality is achieved across all sectors of society. Programmes that focus on the economic empowerment of women need to be expanded and better funded so that more women can gain access to the financial resources necessary for business ownership and other entrepreneurial endeavours. Furthermore, greater efforts should be made to change social attitudes about women's roles in society so that they are seen as equal partners rather than subordinates or second-class citizens.
Edited by Vaishali Nigam Sinha and Nitya Mohan Khemka, 'Pathways to Equality: Advancing Gender Goals in the G20' assesses a selection of critical issues faced by women in the G20 nations. It is a critical 'thinking and doing' volume for readers seeking to understand how we can transform society by moving the needle on gender equality. The curated essays discuss gender inequality in the G20 countries and explore current initiatives that are being taken to address this pressing issue. It features an all-star set of contributors from various fields, including eminent leaders from politics and society, philanthropists, policymakers, and thought leaders. The featured essays highlight the struggles but also offer up ideas and positive examples of how gender bias can be remedied in creative and practical ways.
To download the free e-book as a PDF or for e-book readers, please click here.
CONTENTS
Foreword
Introduction
Editors' Note
1 The Role of Women in the 4IR by Klaus Schwab
2 Gender Equity and Women's Empowerment: How Saudi Arabia Is Overcoming Barriers to Progress by Princess Reema bint Bandar Al Saud
3 Navigating the Path to Peace: Exploring the Multifaceted Dimensions of the Women, Peace, and Security Agenda by Ruchira Kamboj
4 Breaking Barriers, Building Businesses: Catalysing Women's Entrepreneurship in the G20 by Cherie Blair
5 Women-Led Development and the Role of the Multilateral System by Maria Fernanda Espinosa Garcés
6 Making Gender Equality Part of the DNA of Our Societies by Vaishali Nigam Sinha
7 Women at the Negotiating Table to Ensure Peace and Security by Melanne Verveer, Mary Goudie, and Estelle Clayton
8 A Vital Link: Connecting the Dots on Gender and Climate Change by Justin Worland
9 Women in Science, Technology, and Entrepreneurship by Kiran Mazumdar-Shaw
10 Unmasking Inequalities: COVID-19, Gender, and the SDGs by Nitya Mohan Khemka
11 The Moonshot Mindset: Closing the Gender Gap within a Generation by Shelley Zalis
12 A Positive Vision of Masculinity by Rohini Nilekani
A Snapshot on Gender
About the Editors and Authors