The Modi Dilemma: International Image and Domestic Complexity
The Modi Dilemma: International Image and Domestic Complexity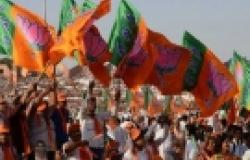 Brian Stoddart explores Narendra Modi's background and recent developments in India to argue that the Prime Minister may soon have to answer searching questions from international onlookers.

Narendra Modi's international political "rock star" image arises mainly from the rest of the world's anxiety to gatecrash the new market and economy arising in India, That external enthusiasm also stems from a view of India as an inclusive society, demonstrated most recently by the Grand Mufti of Syria, Dr. Ahmad Badreddin Hassoun who likened his own country's "plurality" to that of India's.
Domestically, however, Modi runs a precarious line between his "open for and pro business" approach on the one hand, and his ties to a specific and awkward ideology that undercuts the inclusive image on the other. That is where the JNU affair becomes relevant, because it has re-raised concerns about the Hindu nationalist nature of Modi's ruling BJP government, and by definition about the precise trajectory for India and its international standing.
JNU (Jawaharlal Nehru University) was created in 1969 and is now one of India's leading, attracting star academics and producing notables in fields from politics to the creative arts and everything in between. It has also had a reputation for being on the "left". Because of that, JNU has a long history of clashes with authority. The present one might well prove to be the most important one.
Put simply, a student group staged a rally to commemorate the hanging of Mohammad Afzal Guru, hanged in 2013 for his role in the 2001 terrorist attack on the Indian parliament. He was a Muslim member of a Kashmiri separatist group, but doubts remain about the legitimacy of his conviction and the process leading to his execution. The JNU rally also boosted support for that Kashmiri cause, itself a sticking point in the troubled India-Pakistan relationship. The pro-BJP student organisation at JNU took exception to the rally, the BJP government intervened and severe clashes resulted. The Minister in charge of the university system, Human resource Development Minister, Smriti Irani, delivered an incendiary speech in parliament suggesting that those in charge of the demonstration were national traitors and would be charged with sedition. Student politics in India have always been impassioned, but this was dramatic.
Then, the silence of M.Jagdeesh Kumar, JNU's Vice-Chancellor on the matter was widely attributed to his being a "political appointment", although it may also have been because he was in the first two weeks of his tenure when the row erupted. Whatever the truth there, scholars around the world condemned him for allowing police onto the campus to deal with the problem, and for suppressing free speech.
Serious though it is, more broadly the JNU strife reflects tensions resonating inside the ruling BJP.
The party's first full term national government came as recently as 1999, but its origins lie much further back. Its ideological core rests on the concept of "Hindutva", a commitment to Hinduism interpreted widely as support for Hindu nationalism per se. That immediately confronts India's pluralist image, given that fifteen per cent of the population is Muslim, approximately one hundred and eighty million people, making India the world's second largest Muslim country.
Contrasting with that diversity, the BJP bedrock is the RSS (Rashtriya Swayamsevak Sangh). Founded in 1925, the RSS has been regarded by colonial and post-colonial ruling agencies alike as a right wing, conservative, exclusively Hindu and anti-Muslim agency while its supporters see a social service organisation. An RSS member assassinated Mahatma Gandhi in 1948 at which time the organisation was banned temporarily. Similar bans occurred during the Emergency called by Indira Gandhi, then in 1992 following the Babri mosque demolition that so inflamed Indian communal sentiment.
As a boy, Narendra Modi joined the RSS and its paramilitary makeup: khaki shorts, white shirts, black hats, and wooden staves. (The shorts are about to be replaced by long trousers). During the 1970s he became an area commander and went underground during the Emergency ban. He was then assigned to supporting the BJP, entered politics himself, and in 2001 became Chief Minister of Gujarat. He gained recognition as an economic and enterprise reformer, but was tainted by the 2002 riots that saw up to two thousand Muslims killed in the state. Subsequent inquiries cleared Modi of any responsibility but doubts remained, including internationally where he was banned from visiting several countries until he became Prime Minister and the need to attract Indian attention proved too great.
Against that background, Modi's present problem is clear: how does he keep hardline members and supporters of his party happy without alienating support from the broader constituency?
One interesting consequence here concerns Modi's alleged connections to and favours done for "big business". In advance of his election in 2014, Modi won overwhelming support from industrial tycoons like the Ambani brothers, members of the Tata family and others, even though he campaigned hard on the need to "clean up" corruption. That aimed to discredit a Congress-led government awash in corruption cases. While business was not enamoured of that pledge, it did like Modi's promise to open up India even further to and for international opportunity, hence foreign governments' interest.
That relationship with business, however, would never be straightforward given the intertwined nature of government, politics and business in India, as well as the increasing social complexity of the business community. Modi would find it difficult to deliver fully on his promises.
An immediate case concerns Vijay Mallya, the former high profile rich lister and party animal who still theoretically owns the Royal Challengers Bangalore franchise in the Indian Premier League cricket competition and made his money running India's largest alcohol company. Thanks to the spectacular failure of his Kingfisher Airlines venture, Mallya has skipped the country owing banks approximately $US1.4 billion, following some messy years during which his major shareholders sought to oust him.
The Indian National Congress, now the main but in disarray opposition party, claims this development demonstrates Modi's reluctance to seek the repatriation of "black money", a key part of his election pitch. Lurking behind this is the ever-present Indian link between politics, money and cricket. Modi was the long time President of the Gujarat Cricket Association, sat on the national governing body and dealt directly or indirectly with the IPL where Mallya has been such an important figure. So have several other prominent BJP figures including Arun Jaitley, Modi's Finance Minister. There is no evidence to suggest that the connection allowed Mallya to leave India, but the impression is raised regularly, especially so because Chhagan Bhujbal, prominent in political rival the National Congress Party and former Deputy Chief Minister of Maharashtra, was arrested on money laundering charges shortly after Mallya's disappearance.
This complex interplay between politics, caste, nationalism and business has produced some curious developments. In Modi's own state of Gujarat, for example, 2015 was marked by serious agitation raised by the Patel community. Originally a farmer caste, the Patels more recently became entrepreneurs and business figures at home and abroad. Yet in Gujarat, where they constitute fifteen per cent of the population, their intention is to be registered at a lower status and be included in the Other Backward Castes (OBC) category in order to qualify for special privileges. Now, this manipulation of caste status arose during the British period when the census process was introduced, but it may be argued that this present development is a direct result of the Hindu nationalist forces unleashed by Modi's elevation.
As Modi had discovered, though, those caste forces can be volatile. One major setback to his regime, perhaps not well understood by his government's admirers outside India, came during 2015 when the state of Bihar rejected his party in favour of a Grand Alliance formed between Nitish Kumar of the Janata Dal and Lalu Prasad Yadav of the Rashtriya Janata Dal. Pointedly, for Modi, the RJD's main support comes from a heady mix of a lower Hindu caste group and the state's Muslims, a demonstration that the BJP's national model does not always translate well into the political reality of local environments. Modi has now spent considerable time trying to appease Bihar.
Disparate events like the JNU fracas and the Patel movement demonstrate the odd dimensions of the Modi regime that ought to be reviewed strongly by the outside world. The first goes directly to the question of just how inclusive and tolerant the government might be, let alone the question of just how effectively the Indian university system might be able to serve as a growth driver. The second case points to the complex nature of caste developments, themselves encouraged by Modi's background and the BJP's essential purpose. In all likelihood, it will no longer be sufficient for Modi to fill stadiums during future overseas visits. He may also have to answer searching questions.
Brian Stoddart is Emeritus Professor at La Trobe University in Melbourne, Australia where he served as Vice-Chancellor, and Distinguished Fellow of the Australia India Institute at the University of Melbourne. He is also a higher education consultant internationally, a regular commentator on global issues, and a crime fiction writer.

Photo credit: narendramodiofficial via Foter.com / CC BY-SA