Susceptibilities of Solar Energy Supply Chains
Susceptibilities of Solar Energy Supply Chains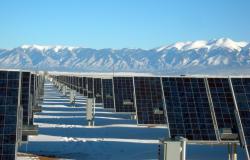 Anna Evans and Morgan Bazilian explain why the novel coronavirus outbreak in China disrupted the global solar panel supply chain, and how the virus' increasing impacts will affect supply and demand. Without thoughtful policy design and implementation at the sub-national, national, and international level, these disruptions could continue to plague the solar industry.
The impact of the coronavirus on the global economy has not spared the solar energy supply chain. Both the public health and solar supply chain disruptions began in China and have since spread all over the globe.
The solar supply chain is a worldwide network that involves many links, including the mining of minerals and metals, processing of materials, manufacturing of modules and panels, and the transportation between each step of the link. China holds major roles in each of those aspects of the supply chain. For a sense of scale, China produces more than 70% of solar panels.
In the first two months of 2020, quarantines and mandatory work stoppages in response to the coronavirus caused Chinese industrial production to fall by 13.5%. China was unable to process materials or manufacture solar panels as the provinces placed under quarantine held five of the China's top ten solar wafer and panel manufacturers (Trina Solar, Yingli Solar, JinkoSolar, Suntech Solar, and Hareon Solar).
The Chinese production of solar panels was acutely affected from January to March, 2020, and the manufacturing of solar panels is starting to recover. "China now faces a new problem: an impending collapse in demand for its exports as its customers go into lockdowns of their own," Gavekal Dragnomics noted in a research report.
Mining, Processing, and Manufacturing
China has the majority market share in the mining or processing of most minerals used in solar panels, such as: silicon, aluminum, selenium, tellurium, arsenic, cadmium, and gallium. However, China still depends on many other countries to complete their solar panels, such as Peru for copper, Saudi Arabian oil for energy, and Japan for silicon wafers.
Mining operations in China were initially reduced or stopped, but by February mines were slowly reopening. In mid-February, the China Nonferrous Metals Industry Association claimed that 76.5% of its more than 1,000 members had gone back to work.
Once the virus spread outside of China, two of the world's largest mining companies, Newmont and Anglo American, cancelled or restricted mining activities. In mid-March, Chinese owned mining company MMG Ltd reduced operations at its Peruvian copper mine after Peru declared a state of emergency in response to the coronavirus.
Due to the damaged mining link in the supply chain, an initial spike in solar module price is expected due to shortages of materials for solar wafers and module glass, affecting the solar industry for months to come.
Transportation
80-90% by volume of global goods are transported by commercial shipping. During the height of the virus outbreak in China, shippers reduced their stops in Chinese ports. The United Nations Conference on Trade and Development reported that container ship departures from Shanghai were substantially low in the first half of February but increased in the second half.
While the number of ship departures recovered, the Shanghai Containerized Freight Index indicates there is now a disconnect between excess shipping capacity and lower demand for container vessels." Even as manufacturing and shipping recover in China, the global demand may not be ready to receive the products. With seven of the ten busiest container ports are in China, and many containers waiting at Chinese ports, solar projects installations are stalled worldwide.
Initial Implications
The virus is now a global pandemic and many Chinese factories find demand for their products has evaporated.
Kangping Chen, the CEO of the top solar module supplier in the world, JinkoSolar, stated that around 400-500MW of Q1 2020 shipments are likely to be postponed to Q2 2020. The 500 MW postponement is approximately 14% of JinkoSolar's 3.6GW quarterly solar panels production last year.
The Solar Energy Industries Association (SEIA) stated that "before the pandemic hit, the solar industry was poised to set a record for deployment in 2020," with solar installers being America's fastest growing profession. A new SEIA survey now suggests cancellation rates for residential solar systems in the US are now at 19%, with postponement rates hitting upwards of 50% in some areas.
The virus also affects ongoing projects. "We can't get our projects built in time and our investment and power purchase agreements (PPAs) were based on being able to take advantage of tax credits," says Katherine Hamilton, chair of 38 North Solutions. An expiration of tax credits while the virus freezes economies would postpone, if not cancel, solar projects in the US.
Germany is having similar delay issues. The energy advisory Enervis's senior consultant, Tim Steinert said the current market environment will put most of the unsubsidized solar development pipeline on hold, drying up the signing of power purchase agreements (PPAs) planned for this year, and possibly next year too.
Economic Stabilization
The US government's response to the coronavirus crisis thus far has been to provide a $2 trillion stimulus package for small business loans, corporate aid, and individual checks. Despite no direct assistance, Hopper of SEIA stated, "There are several elements in this legislation that can help solar businesses and solar workers, including long-term unemployment insurance, business loans and provisions that support employee retention and other employee protections."
The government of India has taken action on the time limits of PPAs and provided extensions. Delays in project completion timelines due to the virus would otherwise attract penalties and decrease solar project viability.
From a solar sector standpoint, there is, at a minimum, a need for signals on extending tax credits, action on time limits of PPAs, and direct relief for the clean power industry.
To what extent each link of the global supply chain is able to continue in virus infected economies will affect the short-term future of the solar industry, while the economic recovery and clean energy policies will determine its long term future.
Anna Evans is a PhD student in Advanced Energy Systems at the Colorado School of Mines and the National Renewable Energy Laboratory. Anna's interests include the low-carbon energy transition and policy, with a focus on renewable energy in the energy-water nexus.
Morgan Bazilian is the Director of the Payne Institute and a Professor of public policy at the Colorado School of Mines. Previously, he was lead energy specialist at the World Bank.
Image: Pixabay via Pexels