At COP26, Countries Need to Inject Climate Action with a Shot of Democracy
At COP26, Countries Need to Inject Climate Action with a Shot of Democracy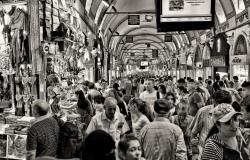 Rafael Jimenez Aybar argues that civil society and empowered publics play vital roles in creating the political space for new climate commitments.
People all over the world want their governments to take credible action on climate change, and as a result 70% of the world's economy is now under long-term decarbonisation targets. But we know that is not enough. Countries must still dramatically increase the ambition of their emission reductions—particularly in the short term. Political leaders need the political space to do more on climate – and they need it now. And they need to know that people support and accept the increasingly transformational measures we need to stay within the "well below 2°C" target of the Paris Agreement.
Climate empowerment is essential to the creation of that political space. UNFCCC Parties ought to adopt a more ambitious programme for ensuring better public knowledge of climate issues and more participation in environmental decision-making at COP26 in Glasgow in November. They need to place it at the heart of their national climate planning. This will make life easier for them going forward – it will allow them to harness the groundswell of energy across societies in favour of climate action and funnel it into the ambitious, effective, and inclusive climate policy. In doing so they will also be providing a much-needed shot in the arm to democracy.
Missing the opportunity to build forward greener
As the Coronavirus crisis began to dominate headlines in March 2020 and governments mobilised unprecedented sums of public money to keep economies afloat, environmental advocates made the case for using the opportunity to "build back greener" and climate leaders raised the alarm about the risk of governments directing economic stimulus to high carbon sectors.
Their worries proved prescient: according to analysts, the first wave of COVID-19 stimulus packages were ominously climate-blind. Despite considerable evidence suggesting that environmentally restorative fiscal policies may be among the most effective tools for economic recovery, very little green spending of this kind was announced in 2020, with only 2.5% of the more than 14 trillion US dollars the world's fifty biggest countries announced they would spend earmarked for green initiatives.
Despite the ever-stronger tailwinds – from the falling costs of clean energy to the steady trickle of countries committing to carbon neutrality by 2050 (or in China's case, 2060) – strong undercurrents still undermine the climate ambition of political leaders in the short term, if the climate ambition reflected in the contributions that countries have submitted ahead of COP26 is a good proxy.
What is holding back political leaders who in principle accept the need for climate action? Decision-makers operate under the pressure of political imperatives. In democratic countries, these are bound to be deeply shaped by short-term factors, which often constrain their political space and push them away from climate action. Even autocrats feel pressure to keep their populations happy and are generally cautious about undertaking reforms that could disrupt people's lives in the short term. But well-targeted climate action can be an economic and societal win-win, and the cost of inaction is well documented. A lack of awareness about these powerful facts constitutes a form of climate disempowerment for decision-makers and society at large.
You empower me, I empower you back
Inevitably, work to address climate change started off heavily focused on government action, with negotiations led by specialist bureaucrats on how to share climate efforts fairly among nations. In the aftermath of the failure to reach a global agreement on climate action in Copenhagen in 2009, the rise of the "empowerment agenda", blew fresh air into multilateral action to address climate change. The Work Programme on Action for Climate Empowerment (ACE) adopted in Doha in 2012 was a watershed moment: it represented an explicit acknowledgement of the critical role of other actors in addressing the climate crisis, including citizens and their representatives, political parties, civil society, businesses, schools, media, religious groups, and (critically) indigenous communities. The ACE programme has 6 components: education, training, public awareness, access to information, public participation, and international cooperation. It reinforces the role of people in setting climate action and in defining the national political climates under which negotiators negotiate and politicians choose to act.
This is the moment for a recommitment to the role the whole of society can play in climate action. Right now, climate action is not ambitious enough to close the emissions gap and we are now on course for a deadly increase in temperature of over 3°C. Yet, societal concern and willingness to participate in solving the climate crisis have exploded, and ACE provides valuable instruments to harness this energy and help drive urgent action. The climate empowerment agenda triggers a virtuous cycle, where those who become empowered by governments to engage in climate change governance end up empowering the governments back. The "Ambition Loop" between business and government is an example this virtuous cycle, and it is exactly this virtuous cycle that will drive whole-of-society action on climate.
The ACE empowerment toolbox is vast: raise public awareness about climate change; ensure access to climate change information; embed it in national curricula; encourage and enhance public participation in climate decisions to ensure wide societal ownership of ambitious climate policies; and apply innovative approaches, such as deliberative democracy. But initial evidence indicates that the climate empowerment agenda is practically unknown among national decision-makers as well as subnational and local officials.
UNESCO recently published a guide to support countries in achieving Paris Agreement's goals through ACE in the hope that it will inform countries' commitments ahead of COP26 in Glasgow. Policymakers everywhere would do well to read it.
Climate empowerment at COP26
The nationally-determined contributions (NDCs) submitted ahead of COP26 do not yet put us on track to the meet the Paris Agreement's goals. It would appear that many political leaders feel that they have run out of political space to move faster, particularly after the myriad challenges dealing with the COVID-19 crisis. Yet if they don't find untapped reservoirs of political space for new commitments now, and again in 2025 at COP27, the 2°C target of Paris Agreement will run out of road. It is time they remember the potential of the empowerment agenda.
Governments serious about climate action should be keen to embrace it and place it at the core of their (political) climate strategy. A strategic approach to ACE would be to include commitments inside updated NDCs ahead of COP26, thus reassuring that their climate ambitions will be delivered, while also demonstrating a commitment to increasing public participation in their implementation. MPs from across the world have signed a statement to this effect, encouraging the international community to do just that.
The new multi-annual work programme on ACE which is meant to be adopted in Glasgow needs to address the key challenges that have prevented ACE from being fully implemented in many countries, so that it is placed strategically at the heart of national action plans on climate.
ACE and the wider empowerment agenda are critical for a politically feasible and just transition, as it will require people whose lives are affected to understand future scenarios, participate fully and effectively in decisions that impact their communities and livelihoods, and have access to necessary training to ensure social and economic security during the transition.
The implementation ACE is, in fact, an existential condition for the delivery of the Paris Agreement. It will help create the political space that governments are going to need to scale up their climate ambition. And the implementation of those actions is what we ought to expect from a democracy, so that people can participate in the important decisions that affect their lives.
Rafael Jiménez Aybar is the Environmental Democracy Adviser at Westminster Foundation for Democracy (WFD), the UK's public agency dedicated to supporting democracy around the world. Rafa has over 12 years of experience supporting parliamentarians worldwide to advance environmental governance. He has worked on climate change mitigation and ecosystem-based adaptation and disaster risk-reduction, and promoted policy coherence and convergence for the attainment of the Sustainable Development Goals.
Photo by Danilo Ugaddan from Pexels