Better Together: The Changing Face of Humanitarian Relief Programs
Better Together: The Changing Face of Humanitarian Relief Programs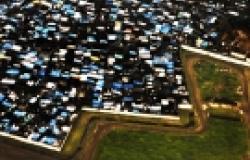 Humanitarian relief projects now require co-operation between a broader range of actors to deliver both immediate aid and long term sustainable recovery.
The context of humanitarian relief situations is changing, characterised by two issues at the heart of Habitat 3. The first is how climate change is increasing the frequency and intensity of urban hazards. This second is the rapidly expanding population of the world's cities. Traditionally, humanitarian projects have delivered rapid responses to disasters in urban settlements and left the longer-term issues to the development agencies.
This changing context has spurred relief actors and NGOs to recognise the need for on-the-ground collaboration in post-crisis situations. Collaboration between affected local communities, relief workers, local and national governments is essential for the immediate post-disaster recovery as well as for creating long-term sustainable development and resilience. All this is reflected in the launch of the "Global Alliance for Urban Crises", which recognises how urbanisation has defined our global reality. The alliance addresses the need to adapt the way humanitarians respond to the new reality of crises by including over 65 organisations, including development and urban specialists.
Relief workers: using cluster systems
In the past, relief agencies have had a tendency to be territorial, working in silence and addressing separate issues. The new context now demands togetherness to incorporate environmental, social, economic, political and cultural factors into both long and short term relief operations. The change has seen relief operations go beyond immediate disaster-relief such as building emergency evacuation centres, transitionary shelter and water delivery. They are expanding to provide permanent risk-informed housing, re-building the water-system and advocating policy.
The cluster system is a way of incorporating all the different sectors present on the ground in a post disaster situation. This allows for increased communication and co-ordination to effectively cover all the issues present. Habitat 3 discussions have emphasised over and over again the importance of communication to prevent barriers to sophisticated relief and development.
Community involvement: "We often forget what people can provide".
The importance of this idea was echoed in the "Neighbourhood Approach" - discussed in a shelter and housing provision training session on the final morning of the conference. The building-blocks of this model I found really credible and interesting, which included:
• Community mobilisation and participatory urban planning
• Protection and Disaster Risk Reduction (DRR)
• Reducing interruption to urban livelihoods
• Assessing and restoring the markets
Teaching the local community how to also effectively respond to their own needs is critical to improving resilience. The neighbourhood approach ensures sustainable long-term planning and infrastructure which increases resilience to disasters and addresses community-identified priorities. Engaging the local government in the affected region helps collaborative efforts as they can provide knowledge of pre-existing systems and services which aid workers can make use of.
Technical skills:
DRR has become an important focus of the New Urban Agenda, which emphasises the need to build resilience in cities. This requires tailored expertise and technical skills beyond basic shelter construction and rubble-clearance. This has caused more architects, urban planners and engineers to be involved in the humanitarian scene than ever before. The emergence of this multi-disciplinary approach has the potential to be one of the most important advancements for post-disaster recovery yet. Humanitarians can learn much from these technical professionals who bring creative and innovative aspects to resilience-building in cities. If they work together, humanitarians can provide the political and social knowledge to adapt these approaches to different sensitive contexts. However, discussions this week have acknowledged the vast capacity shortages in terms of urban planners, but thankfully the importance that Habitat III has placed on planning may pave the way to encouraging more people to take up the profession.
Architects and urban planners also have much to share in the "build back better" aspect of post-crises situations. Training of locals, especially engineers and masons, in risk-sensitive designs is vital to increase the resilience capacities of cities. These include aiding the implementation of no-build zones in precarious areas, safe-building codes and a comprehensive system for recording land-tenure.
The new challenges of climate change and rapid urbanisation means humanitarians need to be taking a much more holistic approach to improve the scope and quality of relief operations, both in the short and long term. Habitat III has identified this challenge but it is up to everybody else to rise to it.

Lydia Darby (@lydiadarby_) is studying a BA in International Relations and Politics. Her interests lie in conflict and disaster risk-reduction, recovery and development, as well as the empowerment of women and youth. She will be exploring how these issues intersect in the implementation of the New Urban Agenda. To keep up to date with the GLI team's commentaries and policy pieces from HABITAT III, or for outputs by GLI teams at other international events please see here.
Photo credit: Abhisek Sarda via Foter.com / CC BY