LSE Future of Humanity Summit – How We Can Learn From the COVID-19 Pandemic to Improve Prevention and Mitigation of Existential Risks
LSE Future of Humanity Summit – How We Can Learn From the COVID-19 Pandemic to Improve Prevention and Mitigation of Existential Risks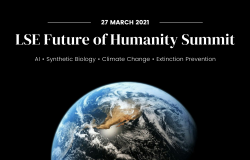 Amidst a global pandemic, students at the London School of Economics have organized the world's largest public-facing online summit on the existential risks that face humanity. Global Policy is proud to co-host the open access summit with the LSE Effective Altruism Society, the LSE Public Debates programme, and the LSE Alumni Association. For a full list of panels and speakers, and to find out how to take part, please see here.
On Saturday the 27th of March, LSE's Effective Altruism Society and Public Debates programme are co-hosting the LSE Future of Humanity Summit, the first-ever summit dedicated to the long-term future of humanity taking place at the London School of Economics. Thousands of students from around the world are expected to attend virtually, watch panel discussions, and engage with the world's preeminent experts in the realms of artificial intelligence, climate change, epidemiology, and existential risk reduction. Even as extensive research is regularly published on these subjects, the Summit is a rare forum that brings experts from various disciplines together to have a holistic, public discussion on the risks that threaten the survival of our species. This discussion is not just unprecedented in its scale and viewership, but also in its context – the discussion takes place as the world continues to grapple with the COVID-19 pandemic, which has claimed the lives of a number rapidly approaching three million people, afflicted over a hundred million, and caused a global economic shutdown which has affected billions of people across the planet.
And yet, in the broader context of human history, this pandemic is anything but unprecedented and, if anything, expected. Pandemics have killed millions of people half a dozen times in just the last century. A pandemic like the current one has also been so confidently expected by many epidemiologists over the last two decades so as to take on the air of prophecy. In 2005, Dr Michael Osterholm, Director of the Center for Infectious Disease Research and Policy at the University of Minnesota predicted that, "in the next decades the world will face a new, deadly influenza pandemic, which could be as lethal as the 1919 pandemic which killed 50 to 150 million." Experts at the Brooking Institution, Carlos Pascual and Stephen John Stedman echoed these warnings in 2009 in their volume on global transnational threats. A cursory Google search on this point reveals the warnings of countless experts and public intellectuals over the last two decades, notably Bill Gates in 2015. And indeed, the Effective Altruism community has been championing the cause of pandemic preparedness for many years.
Equally important to consider is how much worse this pandemic could have been. Virologists engineering live pathogens for what is called 'gain of function research' are now technologically capable of creating a virus with the infection rate of the common cold, the incubation period of HIV, and the fatality rate of Ebola. And the probability of such a virus causing human extinction if released is estimated to be one in fifty, according to an expert survey. That is a hundred times more likely than the chance of dying in a car crash. And accidental releases have happened repeatedly in the past. Release of such a virus – whether accidental or intentional – would rightly bear the title of "unprecedented."
Risks such as these, which threaten the long-term survival of humanity, but may have low probabilities, are categorised as 'existential risks'. Risks like these seem far-fetched. And they are indeed unlikely. But given their sheer magnitude, we cannot afford to ignore them. Although events such as these are very improbable in any given year, they are surprisingly likely within a hundred-year period and, crucially, they would be devastating. A low probability of a catastrophe should not be comforting.
And despite this, the entire planet is not spending much more than USD 1 billion per year on extreme biological risks. That is a thousand times less than what Americans spend on Christmas. Taken all together, a leading expert on existential risks, Toby Ord, estimates that the chance that such a risk comes about this century is one in six – Russian roulette.
The picture we paint here is bleak, but there is much that can be done to confront these challenges. We believe that students might be some of those best positioned to make a large impact; not directly, but by informing others. Students wanting to shape the world are in an unusually pivotal time in their lives. We are open to new frameworks, exciting opportunities, and major changes to our envisioned career paths. Because of this, introducing students to ideas such as existential risks, might be one of the most effective ways to widen the Overton window for these ideas and get more people contributing to solving them. After all, what might be twice as impactful as working on the world's most pressing problems as effectively as you can? Inspiring one other person to do the same.
Working on educating the public on existential risks is also, we believe, a means to help those worst off in the world. For one, the impact of global catastrophes is disproportionately borne by the poorest countries, as the COVID-19 impact has revealed. Hence, working on and educating the public regarding existential risk is an essential route towards preventing death and suffering in those parts of our human community which are most vulnerable and least responsible for such tragedies. Secondly, it is important to remember that our goals as a civilization regarding the environment, racial and gender equality, animal welfare, or social justice are by their nature intergenerational projects. Hence, if we hope to achieve our grandest ambitions, from eradicating global poverty to fostering a truly equal international society, we must ensure the long-term survival of humanity. This is the seminal thrust behind the Summit, and the drive behind future discussions we will continue to have on the risks we face as a civilisation.

Sami Petersen is President of the Effective Altruism chapter at the London School of Economics. Hamza Tariq Chaudhry is Founder of the LSE Public Debates programme at the London School of Economics, and is an incoming Gleitsman Fellow at the Harvard Kennedy School for 2021-2023.