Coronavirus Fuels India's Many Inequalities – A Conversation with GGF 2035 Fellow Rithika Nair
Coronavirus Fuels India's Many Inequalities – A Conversation with GGF 2035 Fellow Rithika Nair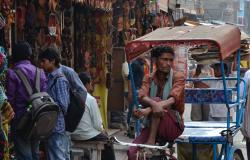 This interview was conducted by the Global Governance Futures – Robert Bosch Foundation Multilateral Dialogues, which brings together young professionals to look ahead 15 years and recommend ways to address global challenges.
1. How has the COVID-19 pandemic affected Indian Prime Minister Narendra Modi's efforts to reduce poverty in the country?
In 2019, the world watched in awe as headlines flashed, "India lifts 270 million out of poverty in 10 years." This was a reference to the United Nations Development Programme's (UNDP) Multidimensional Poverty Index that evaluated multiple indicators of acute poverty in the country between 2006 and 2017. India's Prime Minister Narendra Modi's flagship programs to alleviate poverty contributed significantly to this assessment.
Despite his initiatives, 300 million people continued to live below the poverty line in India at the time the report was published. In 2019, the country's growth rate was registered at 4.5% (compared to 7% in the previous year), and unemployment was at 8.5% (whereas the average was 5.16% for the period between 1983 and 2018). Economists from the Chronic Poverty Research Centre attributed chronic, generational poverty to such inescapable conditions.
By the time the pandemic hit, the baseline had already slipped considerably. Harsh and restrictive lockdown measures put more than 120 million out of work, of which 90 million were daily wage earners. Approximately 10 million informal laborers, who had previously migrated from the country's poorest states to larger cities in search of better opportunities, walked thousands of kilometres to return to their villages as the country came to a grinding halt leaving them without employment, food or shelter. We have no official data on how many of them perished on their journey home, what percentage found employment in their home states, how many ultimately returned to the cities, what their current living conditions are, or how many died thereafter.
2. Like many countries across the world, India still has a long way to go to achieve gender equality and social inclusion, especially for those historically marginalized within Indian society. What are the impacts of the pandemic on gender equality and social inclusion in India?
The COVID-19 pandemic broke out in the midst of a civilian upheaval in India, the crux of which was based on the desire for social inclusion. The government was facing international ire in addition to national fury for undermining the secular foundations of the country by passing citizenship and registration laws that openly discriminated against Muslim people. The pandemic only served to further stigmatize Muslim people, who were blamed relentlessly for disobeying lockdown measures following the Tablighi Jamaat – an international convening of Islamic members in Delhi. While this incident may have contributed to the spread of the virus, it was by no means an isolated incident. The event was preceded and succeeded by other religious gatherings, election rallies, a temple inauguration, the collapse of health systems, and educated people roaming around without masks. The discrimination against Muslims and 'othering' of people based on their castes and communities has not come out of the blue – it builds on a polarisation of society that has existed in the country for a long time.
Around the world, women have been heavily impacted by the pandemic. From carrying out unpaid domestic chores, caring for children and family members, to managing their employment, women have borne the brunt of COVID-19. In India, this crippling exhaustion has been felt significantly by frontline workers, the majority of whom are women. They wore themselves out between spreading awareness on the pandemic, testing the population for the virus, taking care of the infected patients, managing their own domestic chores, and caring for their families - all without sufficient protective gear and a pittance in the name of remuneration. Moreover, violence against women rose exponentially in the aftermath of the lockdown. The closing of industries, loss of jobs, extended confinement, sustained unemployment, economic uncertainty, starvation, and alcohol consumption all contributed to gender-based abuse. Only a fraction of women who experienced such violence received the help they needed. With limited access to phones, the shutdown of helplines and little movement on the streets, we have no data on the number of women across the country who suffered and continue to suffer from domestic abuse.
3. India has rushed the approval of its own vaccine against COVID-19 – Covaxin – without awaiting the results of the phase III trials. Was the race to approve Covaxin in order to avoid further economic damage to the country?
A virus-battered economy, an overstretched and crumbling health system, cutting corners, domestic political calculations and geopolitical strategic interests have all been attributed as reasons for a hasty and controversial move approving an indigenous vaccine. However, the most pressing issue has been Prime Minister Narendra Modi's determination to press hard on his narrative of an Atmanirbhar Bharat or self-reliant India, a strategy of which Covaxin is a shining example. It plays on both the desire to raise India's credibility in the eyes of global players, as well as the goal of boosting citizens' confidence in the government's capability. While restoring India's economy has been the government's prerogative in greenlighting this move, its handling of the situation has been overridden with jingoistic patriotism.
There is currently no system in place, as hospitals across the country have been randomly selected to receive either Covaxin or Covishield. As of early March, everyone who received the Covaxin vaccine were being treated as participants in an open-label clinical trial. Even though vaccination is voluntary, in a country ridden with inequalities, corruption and back-channel arrangements, conducting such an experiment was considered extremely dangerous. According to Dr. Oliver Wouter, professor of Health Policy at the London School of Economics, the urgent push for an Indian vaccine is part of "vaccine nationalism," a belief which is now gaining ground over economic reasoning or common sense.
4. Since November 2020, Indian farmers have marched to the capital, New Delhi, in protest against new laws passed by Prime Minister Modi's government that deregulate the sale of crops. In what ways are Indian farmers feeling the heat of the pandemic?
The condition of Indian smallholder farmers who were facing ruin following the lockdown was further rocked when the Indian government passed three agricultural laws in August 2020. Of the three, the real bone of contention has come from the Farmers' Produce Trade and Commerce Act that permits intra-state and inter-state trade of produce beyond government prescribed markets. Farmers fear that, with the end of government-regulated markets and assured prices, they will be at the mercy of unsympathetic corporations. Within days of the announcement, farmers from Punjab, Haryana and Rajasthan, who had been the biggest beneficiaries of status quo, began to march to New Delhi to protest the law and demand its repeal.
Social distancing norms, mask-wearing, catching or spreading the virus, and the consequences thereof are not significant concerns to these farmers, who fear that the new laws pose a greater threat to their lives than COVID-19. Accumulating garbage, lack of sanitary facilities or medical staff, and limited resources have added to the volatility and harm of an already-challenging situation. According to an article in The New Indian Express, protesters are "unwilling to get tested, fearing they would be isolated if found positive and this would weaken their agitation."
While there is a lot to be said about the farmers' protests, there is little information or context to draw meaningful connections with the pandemic. Many of the farmers have clearly stated a lack of concern for the virus in the face of what they feel is a more real and pressing situation. Oddly enough, even though experts feared that the protests would be COVID-19 super-spreader events, the data as of February 2020 shows that coronavirus cases in New Delhi have plummeted.

Rithika Nair is an independent consultant specialising in designing and assessing social impact programmes in India. She is also a fellow of the Global Governance Futures – Robert Bosch Foundation Multilateral Dialogues program. All views are the author's only and do not represent any of the institutions to which she is associated.
Photo by Richard McAlister from Pexels